Prawn Laksa Recipe – Laksa Lemak (Spicy Noodle Soup with Prawns)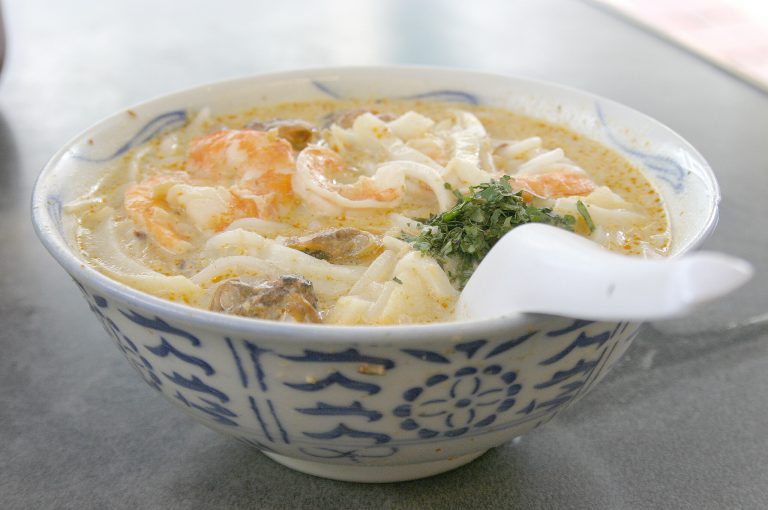 Lemak means 'creamy' and this creamy coconut milk Laksa from Singapore and the Straits of Malacca is the version best known in Australia. It can however be adapted to include almost any seafood you like, including mussels, scallops and any firm-fleshed fish, just remember not to overcook the seafood as it will continue cooking in the residual heat of the soup.
Serves 4
Prawn Laksa Recipe: Laksa Lemak
Prawn Laksa Recipe – Laksa Lemak (Spicy Noodle Soup with Prawns)
Ingredients
¾ cup vegetable o il
1 litre chicken stock
500ml coconut milk
300g fish balls (see notes)
18 medium green prawns, peeled and deveined
200g flat rice noodles, soaked in boiling water 10-15 minutes, until soft
6 deep-fried tofu puffs, shredded
4 green onions, thinly sliced diagonally
1 cup bean sprouts, tailed
2 limes, juiced
2 tablespoons fish sauce
1 bunch Vietnamese mint, to serve
1 bunch coriander, to serve
1 Lebanese cucumber, deseeded and shredded
Sambal oelek, to serve (see notes)
1½ limes, extra, to serve
Laksa Paste
2 red onions, roughly chopped
2 stalks lemongrass (white part only), finely sliced
8 candlenuts
4 cloves garlic
2.5cm piece galangal, grated
1 tablespoon grated turmeric
8 dried long red chillies, deseeded, chopped and soaked
½ tablespoon blachan (see notes)
2 tablespoons ground coriander
½ teaspoon salt
Instructions
Make Laksa Paste: process all ingredients into a coarse paste.
Heat oil in a wok. Add Laksa Paste and fry for 5-10 minutes, until oil floats to the top and it smells aromatic. Add chicken stock and coconut milk. Bring to the boil, reduce heat and simmer for 20 minutes, stirring occasionally. Add fish balls, simmer for 2 minutes then add prawns, increase heat and return to the boil then remove from heat. Cover to keep warm.
Divide drained rice noodles between 6 deep bowls, add tofu, green onions and bean sprouts. Stir half the lime juice and fish sauce through the soup, taste and add more if needed. Ladle soup into bowls and top with Vietnamese mint, coriander, cucumber, sambal oelek and lime wedges.
https://mumslounge.com.au/lifestyle/food/prawn-laksa-recipe-laksa-lemak-spicy-noodle-soup-with-prawns/
Notes: If you don't have time to make your own laksa paste, you can use a good commercial one such as Charmaine Solomon's. Fish balls are available from the chiller cabinet of Asian grocery stores. Sambal oelek is a Malaysian chilli paste and blachan is Malaysian fermented shrimp paste, they're both available from Asian grocery stores and some supermarkets.
Alternative Species: Bugs, marron, redclaw, rocklobsters, yabby.
© Sydney Fish Market 2013