A Guide to the Rides & Attractions on the Gold Coast for Parents of Preschoolers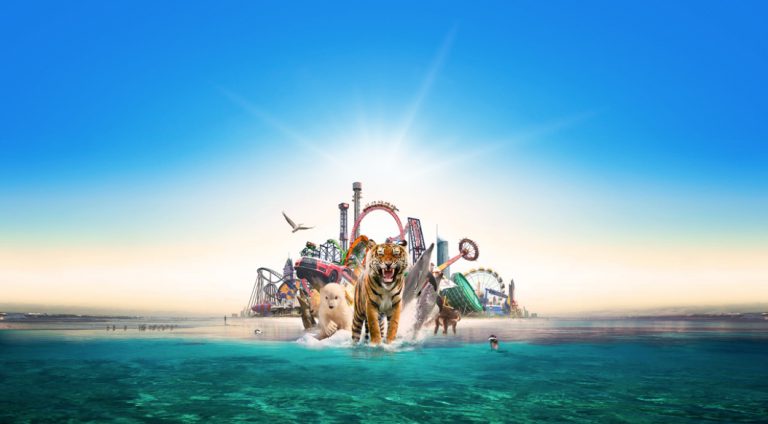 Last week we covered the best rides for thrill seekers on the Gold Coast, which are great for adults and older children that meet the height requirement. But what about those of us visiting the theme parks on the Gold Coast with smaller children?
Check out our Guide to the Rides and Attractions on the Gold Coast for Parents of Preschoolers:
Kids WB! Fun Zone
The Kids Warner Brothers Fun Zone has a host of rides suitable for the younger members of the family, including Tweety and Sylvester cages ride, Taz's Hollywood cars, the Looney Tunes carousel and the ever popular splash zone with its interactive water fountains perfect for cooling off in on a hot day.
Main Street Parade
The main street parade is truly a spectacle to behold, and even the smallest of visitors will revel in the chance to get up close to some of WB's most iconic characters. Daffy Duck, and Bugs Bunny, Scooby Doo and the Mystery Inc gang delight visitors to the theme park in an unmissable parade…and let's not forget the excitement of seeing WB's favourite super heroes and villains, like Batman and cat women, just to name a few.
Characters can also be found around the park at other times, and are only too happy to pose for photographs with guests.
Hollywood Stunt Driver
The Hollywood stunt driver show is an action-packed adventure featuring breathtaking stunts and precision driving that will entertain and amaze the whole family.
Being famed for it's Big 8 thrill rides catering for all ages, Dreamworld also has plenty of fun and excitement to offer younger members of the family, with a fantastic range of family-friendly rides and attractions perfect for the under 5's.
Wiggles World
Wiggles World offers a whole host of mild rides that toddlers and young children will love, including Dorothy's Rosy Tea Cup ride, Big Red Car ride, Big Red Boat ride, the SS Feathersword and The Fun Spot activity centre where little people can indulge in fun, educational and interactive games whilst enjoying their favourite Wiggles songs.
The Dronkey Flyers
Set in the Shrek's Faire Faire Away area of the park, the Dronkey Flyers are cute half donkey half dragon carriages that offer a fun merry go round experience suitable for preschoolers.
Shrek's Ogre Go Round
Adjacent to the Dronkey ride is the Shrek themed Ogre Go Road that is sure to delight preschoolers with its Shrek themed characters. Will you ride on a horse, a donkey or inside an onion carriage?
The Madagascar Live Show
The Madagascar live show is a favourite with children and features all your favourite characters from the movie: King Julien, Alex Gloria, and of course the hilarious penguins, Rico, Skipper and Kowalski.
Tiger Island
Tiger Island offers visitors the chance to see Bengal and Sumatran tigers up close. Visitors can see the Tiger Presentation twice daily and be amazed to see these majestic creatures scale a 20 foot tree, jump between massive logs and launch ten feet in the air!
Cub College Show with Dreamworld's youngest tigers Baru and Ravi is due to launch in December this year.
Australian Wildlife
Dreamworld visitors can also enjoy the other wildlife-related areas of the theme park, cuddle a koala, get up close to kangaroos, wombats, emus, and bilbies, and observe crocodiles, pademelons and other reptiles and amphibians.
With so many family-orientated shows, experiences and rides on offer at Sea World it really pays to invest some time in planning your day with the park map and session times, so as not to miss out on anything. With the emphasis on fun and educational shows and experiences for the whole family, Sea World is perfect for families with preschoolers.
Fish Detectives
Sea World's cheeky Sea Lions Buddy and Clawde put on a hilarious show that the whole family will love, as they take on villainous character Big Al Baloney guilty of the environmental crime of making a huge profit whilst depleting the harbours fish supply.
Imagine
A trip to Sea World wouldn't be complete without a visit to Dolphin Cove – the largest sandy bottomed lagoon ever built for dolphins. Watch as they play, interact and even perform synchronised choreographed jumps in the entertaining and educational Imagine show.
Shark Bay
Shark Bay is the world's largest man-made lagoon system. Visitors can enjoy a fascinating view of the sharks, tropical fish, and stingrays from the underwater viewing platform.
NEW – Seal Harbour
Visitors to Sea World can now enjoy an up close and personal experience with playful seals at the parks newly opened Seal Harbour.
Polar Bear Shores
What could be more adorable than a pint-sized Polar Bear? Henry, Australia's only baby Polar Bear, can be seen playing with his mum at Polar Bear Shores.
Ray Reef
Toddlers and preschoolers will love the opportunity to touch feed and watch stingrays in the interactive Ray Reef exhibit.
Dinosaur Island
Dinosaur Island features an interactive indoor animatronic dinosaur display, and 14 incredible life size roaring, moving dinosaurs outdoors.
Spongebob Parade Pants
Bikini Bottom comes to life in this spectacular nautical-themed parade, incorporating extravagant floats, stunning water displays and spectacular thematic boats.
Spongebob 3D Movie Experience
Children old enough to pop on a pair of 3D glasses will love Spongebob's 3D movie adventure showing at intervals during the day.
Dora's Best Friend Adventure
Join Dora, Boots and Swiper the fox on a musical adventure to Rainbow Rock in the show that'll have your preschoolers singing and dancing along enthusiastically.
Beach Break Bay
The Beach Break bay features lots of rides suitable for preschoolers including the carousel, beach dump trucks, and the Splash Capsule wet-play area.
With qualified lifeguards overseeing each ride, and a dedicated kids area called Buccaneer Bay, Wet 'n' Wild is a great family destination, perfect for staying cool in the Gold Coast heat.
Buccaneer Bay
Buccaneer Bay is a multi-level pirate themed attraction featuring cool slides, a giant tipping bucket, colourful interactive elements, and shallow water lagoons to keep the under 6's entertained.
Calypso Bay
Visitors of all ages can enjoy the relaxing float around the river on a soft tube, or playing/relaxing in the soft sand of one of the shady beach retreats.
Wave Pool
Supervised children will enjoy the wave pool at Wet 'n' Wild. Flotation devices are available for hire and are highly recommended.
Wiggle Bay
Wiggle Bay is White Water World's exciting and safe area for the under fives. Featuring age-appropriate water slides, interactive sprays, colourful water cannons and instruments, Wiggle Bay is the perfect sanctuary for parents and their preschoolers.
During school holidays visitors at the park may even be lucky enough to meet their favourite Wiggles characters, Dorothy the Dinosaur, Wags the Dog and Henry the Octopus.
Cave of Waves
Families will love kicking back on the beach at the Cave of waves, and whilst the awesome waves may be too much for smaller, inexperienced swimmers, they will still love splashing and paddling in the shallows of this fantastic wave pool.
For more information about any of the rides, attractions or theme Parks above, visit the ThemeParkCapital website. 
What are your favourite rides or attractions on the Gold Coast to take preschoolers to?