Roast Chicken and Mushroom Pasta Bake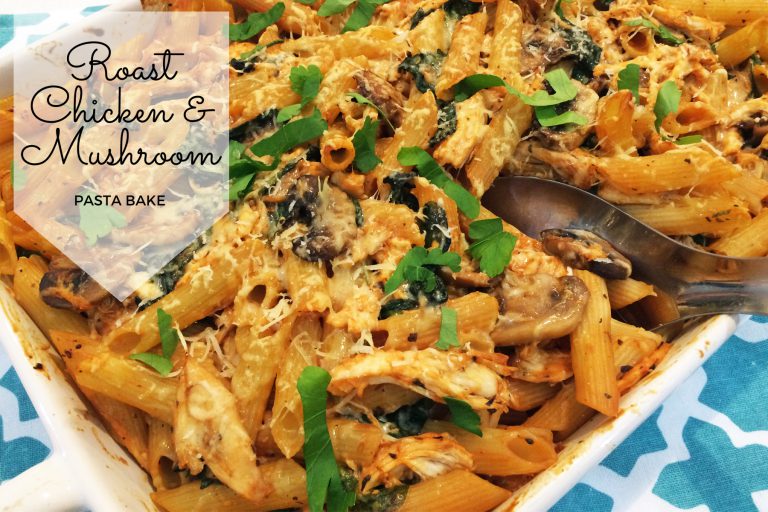 Roast Chicken and Mushroom Pasta Bake
Turn the ordinary into something a bit special with this deliciously simple roast chicken and mushroom pasta bake!
This is one of those recipes that require a little supermarket shopping beforehand – perfect to keep in mind after a long day at work.
Here's what you'll need to throw it all together.
A packet of baby spinach, a barbecue chicken, a packet of penne pasta, a jar of pasta bake sauce, some parmesan cheese, small punnet of mushrooms, garlic and some fresh herbs – rosemary and parsley. Oh, and some olive oil to cook it with.
Put your pot of boiling water on for the pasta and get it going, then saute your mushrooms with the garlic and rosemary. Then try not to eat too many before you need to use them!
Next, add the shredded meat from the barbecue chicken and the baby spinach to what's left of the mushrooms and cook for a few minutes. Get that spinach nice and wilted. By this stage your pasta would be just about cooked.
Drain the pasta and mix with the chicken, spinach and mushrooms as well as the jar of pasta sauce.
Place it all in a big lasagne-sized baking dish, top with parmesan cheese and then bake for twenty minutes.
Looks great already! Those garlic mushrooms are still amazing.
Once it's golden and heated through, top with some more parmesan cheese and some parsley and serve! It may be fairly simple to throw together, but it's a great recipe – so yummy! Enjoy!
Roast Chicken and Mushroom Pasta Bake
Ingredients
500g dried penne
2 tbsp olive oil
2 cloves garlic, crushed
250g mushrooms, sliced
1 sprig fresh rosemary, leaves picked
1 barbecue chicken, meat removed and shredded
200g baby spinach
1 jar tomato-based pasta bake
100g grated parmesan cheese
Grated parmesan cheese and fresh parsley to serve
Instructions
Preheat oven to 180deg. Cook the pasta in a pot of boiling salted water for 3 minutes less than package directions. Drain and return to pot.
Meanwhile, heat oil in a frying pan over medium heat. Cook the garlic, mushroom and rosemary, stirring, for 5 minutes. Stir in the chicken and spinach.
Stir the pasta sauce and chicken mixture through the pasta. Spoon into a 12 cup ovenproof baking dish and top with grated parmesan cheese. Bake for 20 minutes or until golden and heated through. Top with parsley and extra cheese and serve.
https://mumslounge.com.au/lifestyle/food/roast-chicken-mushroom-pasta-bake/