Roasted Capsicum, Baby Spinach and Bocconcini Stuffed Chicken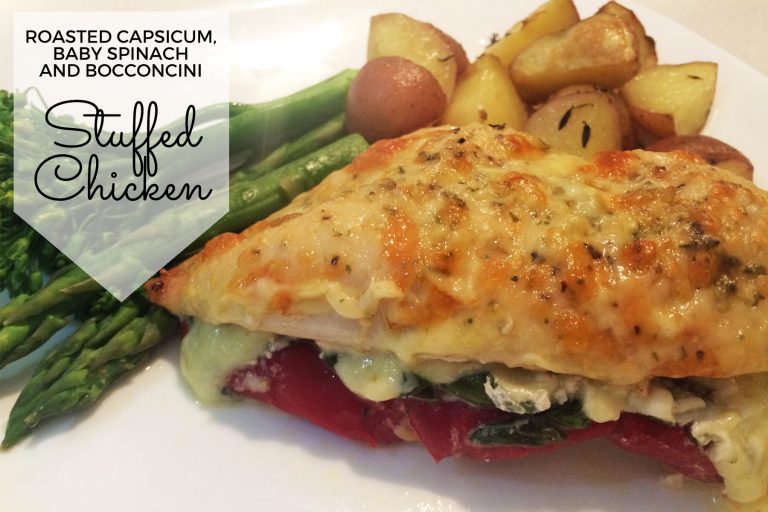 Roasted Capsicum, Baby Spinach and Bocconcini Stuffed Chicken
I made this recipe for the first time the other week and now I'm wondering why I haven't been making this  all my life. I am in roasted capsicum, baby spinach and bocconcini stuffed chicken heaven. Seriously. It sounds and looks good because it IS good. It's amazing. My husband licked his plate!
It really is not that difficult to make. I'm a big fan of just bunging things in the oven and hoping for the best and this one ticked a lot of boxes. Cut chicken, put things inside it, put in oven, serve. As simple as that, really! Give it a go, you won't be disappointed.
Roasted Capsicum, Baby Spinach and Bocconcini Stuffed Chicken
Ingredients
Olive oil spray
4 large chicken breast fillets
1 small jar of whole roast capsicums or red bell peppers
100gms of baby spinach
12 basil leaves
210gms bocconcini, thickly sliced
Masterfoods Tuscan seasoning
¾ cup grated tasty cheese
Steamed vegies and oven-baked baby potatoes to serve
Instructions
1. Preheat oven to 200°C. Grease a 9x12 casserole dish with olive oil spray.
2. Butterfly chicken breasts by slicing into the long side of the breast, stopping one centimetre from the opposite side. Place opened chicken in casserole dish and sprinkle the insides of the chicken breast with Tuscan seasoning. Stack the roasted capsicum, baby spinach, 3 basil leaves, and bocconcini slices inside the chicken. Fold the top flap of the chicken over and sprinkle with a little more Tuscan seasoning. Repeat this procedure for each chicken breast.
3. Bake chicken for 30-40 minutes (until chicken is no longer pink), then remove from oven. Top chicken with remaining bocconcini slices and sprinkle with grated tasty cheese. Place under the grill until cheese is browned and bubbly, about 5 minutes, then serve with steamed veggies and oven-baked baby potatoes.
https://mumslounge.com.au/lifestyle/food/roasted-capsicum-baby-spinach-bocconcini-stuffed-chicken/