Roasted Tuscan Chicken Drumsticks, Potato Wedges and Salad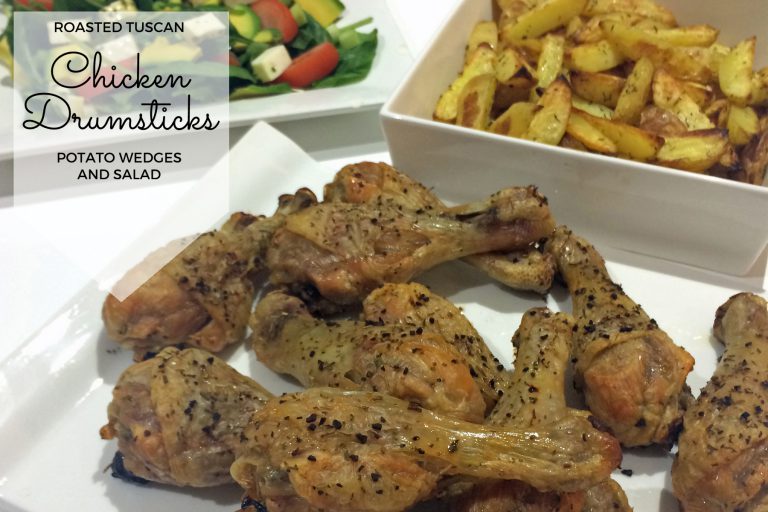 Roasted Tuscan Chicken Drumsticks, Potato Wedges and Salad
There is nothing like sitting down to a cheap, tasty meal that is always a hit with the whole family, and these roasted Tuscan chicken drumsticks fit that bill perfectly!
These drummies have to be one of the easiest meals you'll ever make! Just sprinkle chicken drumsticks generously with Tuscan seasoning and pop them in the oven. Amazing aromas of roast chicken, garlic and rosemary will soon fill your house, and before long you'll be fielding lots of "Muuum, when will dinner be ready?" questions.
Add some crisp and golden home-made potato wedges and a simple green salad of baby spinach, cherry tomatoes, avocado, green onions and your favourite cheese and you're onto a winner. Serve on big platters at the table and let your hungry horde help themselves.
Perfect for an easy Friday night in front of the footy!
Roasted Tuscan Chicken Drumsticks, Potato Wedges and Salad
Ingredients
12 chicken drumsticks
Masterfoods Tuscan Seasoning
1kg washed potatoes
Olive oil
Salt & pepper
Dried herbs
Half a bag of baby spinach
Half an avocado
Half a punnet of cherry tomatoes
1 green onion
Cubes of cheese (marinated feta, haloumi, bocconcini or cheddar)
Your favourite dressing or olive oil to dress your salad
Instructions
Preheat oven to 240°C.
Arrange drumsticks on a baking tray and sprinkle with Tuscan seasoning.
Slice potatoes into wedges, arrange on another baking tray and drizzle with olive oil. Sprinkle with salt, pepper and dried herbs.
Place into hot oven and roast for 20 minutes. Swap trays in the oven and then roast for a further 20 minutes or until wedges are golden and tender and chicken is cooked through.
To make the salad, arrange baby spinach leaves onto a platter and top with halved cherry tomatoes and sliced avocado. Sprinkle green onions and some diced cheese over the top, and drizzle with your favourite salad dressing.
Present your meal on large platters at the table and let your hungry family serve themselves.
https://mumslounge.com.au/lifestyle/food/roasted-tuscan-chicken-drumsticks-potato-wedges-salad/