Salmon and Parmesan Fish Cakes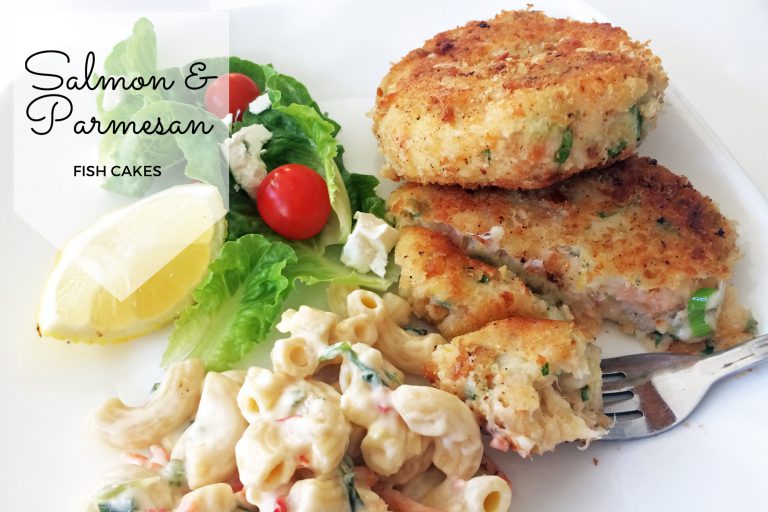 Salmon and Parmesan Fish Cakes
These salmon and parmesan fish cakes were a real hit in our family — crispy on the outside and light and fluffy on the inside with flavours of lemon, parmesan and smoked salmon. What's not to love?
Here is what you'll need to have this meal on your table in a hurry.
Mashed potatoes. You'll need about 500g of mash, and you can either used leftovers from another meal, make it beforehand and have it ready, or just get it going while you prep the rest of your ingredients. Whatever suits you.
You'll also need some salmon. You can use a tin of salmon if you like, but I found some hot smoked salmon on special in the cold foods section of the supermarket and I love love love hot smoked salmon so I used that.
Other ingredients you'll need are fresh breadcrumbs, a shallot or spring onion, finely grated parmesan cheese, fresh parsley, an egg, a lemon, and canola oil for frying. Plus a salad or two to serve.
Mix the mashed potato with your flaked salmon, chopped spring onion, parmesan, parsley, lemon and some black pepper. How good is it looking already? I could just eat this with a spoon right now.
Now divide the mixture into 8 patties, dip them into a beaten egg then into the fresh breadcrumbs. Pan fry in oil for 5 minutes each side or until golden, then remove to a plate lined with kitchen paper to absorb the oil.
Serve with your salads for a fantastic, delicious summer meal!
Salmon and Parmesan Fish Cakes
Ingredients
500g potatoes, peeled and cut into large chunks
440g can salmon, drained with skin and bones removed OR 1 packet hot smoked salmon, skin removed and flaked
Zest of 1 lemon
Juice of half a lemon
1 spring onion, finely chopped
3 tbsp fresh parsley, chopped
100g parmesan cheese, finely grated
1 egg, beaten
125g fresh breadcrumbs
Canola oil for frying
Instructions
Boil the potatoes in a large saucepan until tender. Mash with butter and milk.
Combine the mash, salmon, lemon zest and juice, spring onions, parsley and parmesan cheese in a bowl. Season with black pepper and shape into eight patties.
Dip each patty in the egg, then coat in breadcrumbs.
Heat the oil in a large frying pan. Add the fish cakes and fry in batches for 4-5 mins on each side until crisp. Serve with a salad.
https://mumslounge.com.au/lifestyle/food/salmon-parmesan-fish-cakes/