San Choy Boats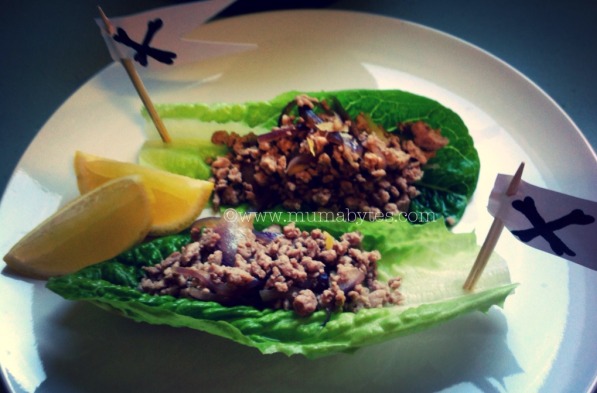 San Choy Boats
Getting our kids to eat healthy, nutritious food is one of the on-going battles of parenting. My daughter is extremely fussy about eating meat, but "san choy boats" is one meat-based meal she devours – despite the fact that she has clearly moved on from the pirate phase to the princess/mermaid phase.
Baby cos is best for the boat shape, but you could also use iceberg, if you can find one willing to cooperate. To make the mast and sail, just use a toothpick or skewer, and a small piece of paper.
If served without rice, this is a great low-carb meal for the adults, too.
Ingredients
500 gr lean pork mince
1 red onion sliced
1 small clove or garlic (grated or crushed)
1 small nob of ginger (grated or crushed)
1-2 tsp soy sauce
Iceberg or baby cos lettuce cups
1 fresh lemon
Cooked rice to serve (optional)
Sweet chilli sauce (optional)
Instructions
 Wash and dry the lettuce cups, and assemble the masts and sails. Set aside.
 In a frying pan, cook the pork mince, breaking it up as you cook it so that there are no big clumps. Once it's cooked, add the crushed garlic and ginger and mix through for another minute. (If you are using a good non-stick pan, you won't need oil.)
 Remove the pork to a bowl and set aside.
 Throw the sliced onion into the pan and cook it with the soy sauce. (Again, I find that no oil is necessary as there is some residual oil from the pork on the pan.)
 When the onion is well cooked, add the pork back to the pan and mix together for a minute.
 Spoon the pork into the lettuce cups and serve with a lemon wedge, rice and sweet chilli sauce.
https://mumslounge.com.au/lifestyle/food/san-choy-boats/
Serves: 4
Total Time: 15 mins
Difficulty: easy
Author: Katie from Mumabytes
Katie is a full-time mum and blogger at Mumabytes  . A Melbourne girl, she never says no to chocolate, and loves to share her ramblings about all things motherhood.