No-Bake Nutella Cheesecake Recipe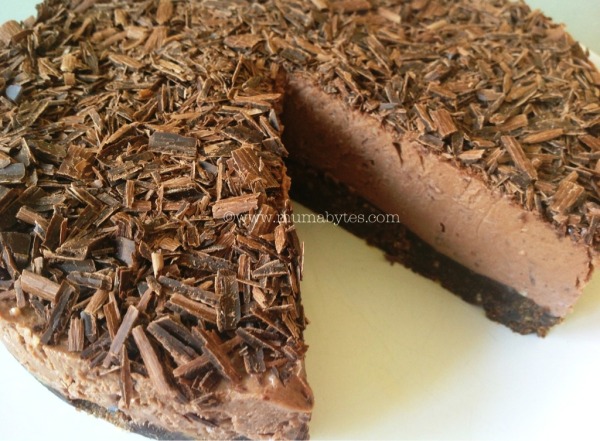 Whether you need a quick no-fuss dessert for an afternoon catch up, or if you want to impress dinner party guests with your culinary prowess – this amazing No-Bake Nutella Cheesecake recipe may be just the ticket. 
No-Bake Nutella Cheesecake Recipe
Nutella has definitely earned its place on the treat shelf in most homes. My husband truly believes it is heaven in a jar.
Combining Nutella and cheesecake was a complete no-brainer, and something I've had on my to-bake list for a while. This recipe is very simple; it contains no gelatine, and requires no baking. You can have this fabulously rich no-bake Nutella cheesecake in the fridge within about ten minutes.
Ingredients:
500g Philadelphia cream cheese, softened
400g jar of Nutella (or other hazelnut spread)
1/2 cup roasted hazelnuts, roughly crushed (optional)
250g packet of choc ripple biscuits
80g melted butter
Dark chocolate, grated (garnish)
Method:
 Lightly grease the bottom of a 22cm springform pan.
 In a food processor, or using a rolling pin, crush the biscuits and add the melted butter. Press the biscuit mixture into the base of the springform pan and place it in the fridge while you prepare the filling.
 Beat the cream cheese and Nutella until smooth and mixed together well.
 Add the crushed hazelnuts and stir through with a spoon. (You may want to omit the nuts if you prefer a smoother cheesecake.)
 Spoon the mixture onto the base and smooth it over with a knife. Cover and place in the fridge to set overnight.
 Before serving, top with lots of grated dark chocolate.
Prep time: 10 mins
Total Time: Overnight
Difficulty: Easy
Katie is a full-time mum and blogger at Mumabytes. A Melbourne girl, she never says no to chocolate, and loves to share her ramblings about all things motherhood.