Sausages with Onion Gravy, Mashed Potatoes and Veggies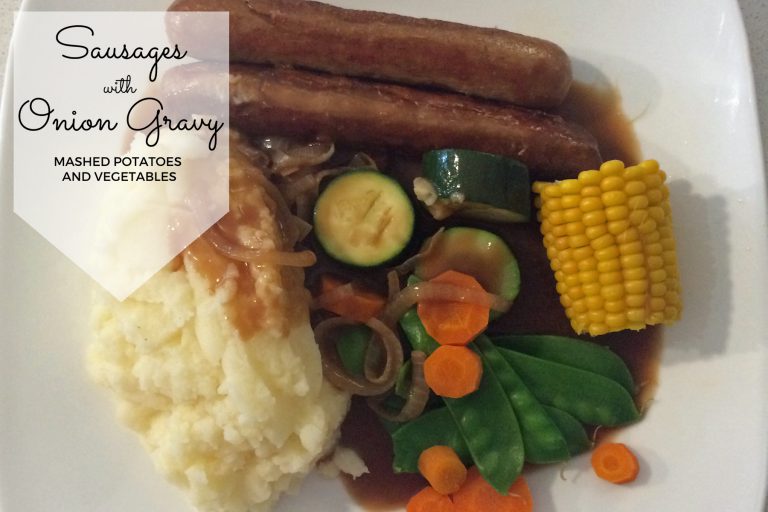 Sausages with Onion Gravy, Mashed Potatoes and Veggies
Sausages with onion gravy, mashed potatoes and veggies is a classic family favourite will satisfy even the pickiest of eaters with it's simplicity and hearty goodness. And you'll never need a packet mix gravy again once you've mastered this deliciously easy gravy. Serve with whatever vegetables you have in your fridge crisper or freezer and you can't go wrong.
Sausages with Onion Gravy, Mashed Potatoes and Vegies
Ingredients
560g packet of sausages
1kg potatoes
milk & butter to mash
your favourite vegies – carrots, peas, zucchini, corn, beans, broccoli etc. Frozen or fresh is fine.
For the gravy:
40g butter
1 onion, finely sliced
1 tablespoon of plain flour
2 beef Oxos
2 tablespoons of Soy Sauce
Salt & pepper to taste
Instructions
Peel potatoes and chop into large chunks. Place in a pot of salted cold water and bring to the boil with the lid on. Cook until tender, then mash with milk and butter.
Meanwhile, cook the sausages in a frying pan, turning until browned and cooked through
Prepare your vegetables and steam or boil until just tender.
Melt butter in a medium sized saucepan and add the onions, stirring until softened. Dissolve the Oxos in 500mls of hot water in a jug. When the onions have softened, add 1 heaped tablespoon of plain flour to the saucepan and stir for a few minutes to combine and to cook the flour. Add the warm beef stock to the saucepan a little at a time while stirring constantly. It will be thick and gluggy at first but once all the stock has been added it will have a glossy smooth consistency. Add a little soy sauce for extra flavour and some salt and pepper to taste. Pour into a jug to serve.
5. Combine all elements on each plate and pour gravy over the top.
https://mumslounge.com.au/lifestyle/food/sausages-with-onion-gravy-mashed-potatoes-vegies/