Slow Cooker Beef Goulash Recipe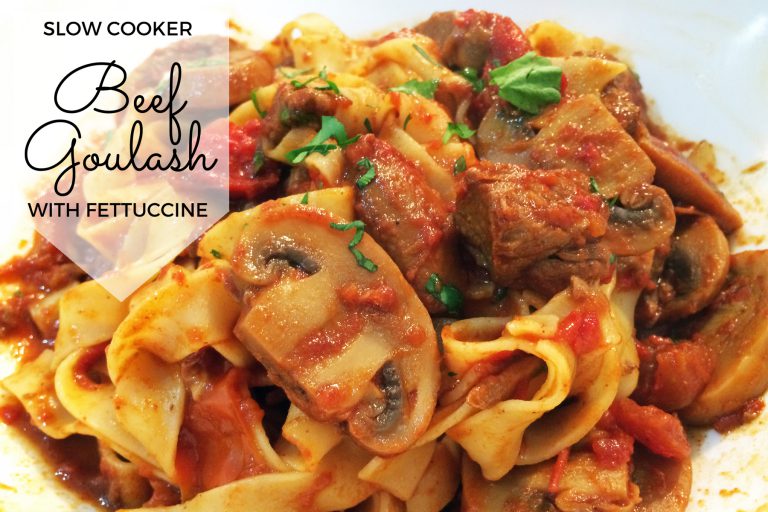 Slow Cooker Beef Goulash Recipe
Rich, savoury beef goulash is always a favourite in our house during the cooler months. It is especially wonderful when you can pop it in a slow cooker letting those flavours infuse through the meat until they will fall apart in your mouth.
This recipe contains casserole steak cut into cubes, mushrooms sliced thickly and lovely big chunks of red capsicum which partially break down during the cooking process to flavour the sauce.
The most important ingredient to add to your goulash is paprika. You can buy two kinds at the supermarket – sweet paprika (usually labelled as just "paprika") or smoked paprika. It is made of dried red capsicums and is vital to any proper goulash.
Other ingredients are garlic, onion, beef stock, bay leaves, a tin of tomatoes and sour cream, with dried fettuccine and fresh parsley to serve. We served ours on thick fettuccine toscane. It is also delicious served on a bed of creamy mashed potatoes or steamed rice. Add some crusty bread to sop up the rich gravy and you've got  yourself some ultimate comfort food on a cold wintery night.
This recipe is designed to be made in slow cookers but you could easily adapt it to cook on a stovetop or in the oven in a heavy based casserole dish with a lid. Just add another cup of beef stock and follow the same directions. You will to remove the beef to a plate instead of the slow cooker dish when required. Adjust your cooking time to about one and a half to two hours, and simmer gently on the stovetop on low, or at 180 degrees in the oven, stirring occasionally.
When cooked and smelling amazing, stir through your pasta or heap generously on top of mashed potato. Enjoy!
Ingredients
2 tablespoons olive oil
750g casserole beef, trimmed, cut into 3cm cubes
1 large brown onion, finely chopped
2 garlic cloves, crushed
200g button mushrooms, thickly sliced
2 large red capsicums, cut into 2cm pieces
2 tablespoons plain flour
2 tablespoons sweet paprika
2 dried bay leaves
1 cup beef stock
400g can diced tomatoes
2 tablespoons sour cream
Cooked fettuccine
Chopped fresh flat leaf parsley and sour cream, to serve
Instructions
Heat half the oil in a frying pan over medium-high heat. Cook beef, in batches, for 5 to 6 minutes or until browned. Transfer to slow cooker bowl.
Heat remaining oil in dish. Add onion, garlic, mushrooms and capsicum. Cook, stirring, for 5 minutes or until onion has softened. Add flour and paprika. Cook, stirring, for 1 minute. Transfer to slow cooker bowl and stir in stock, tomato and bay leaves.
Cover and cook for 8 hours on low or 4 hours on high or until beef is tender.
Spoon 1/4 cup liquid from goulash into a bowl. Add sour cream. Stir until smooth and combined. Add to goulash. Stir to combine. Serve with parsely, parsley and sour cream.
https://mumslounge.com.au/lifestyle/food/slow-cooker-beef-goulash-recipe/