Slow Cooker Corned Beef with Honey Mustard Gravy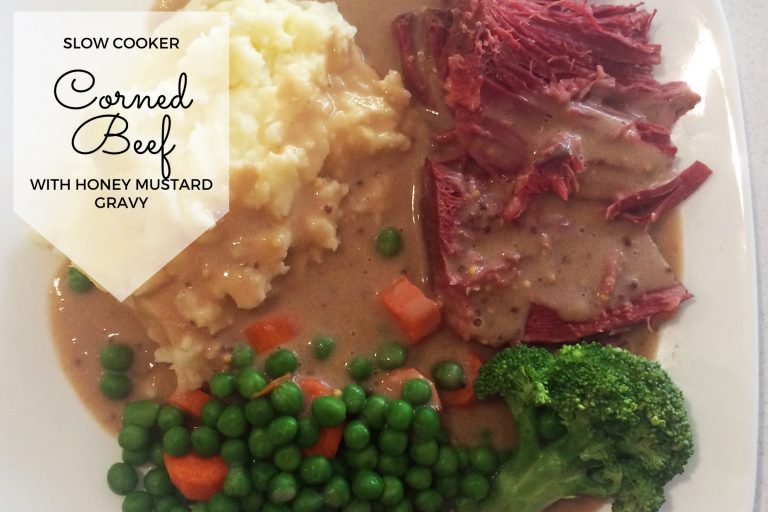 Slow Cooker Corned Beef with Honey Mustard Gravy
I love my slow cooker, and I only ever make corned beef in it because it's so easy! And when combined with honey mustard gravy, it is just divine. It really is worthwhile putting in that little bit of extra effort to make the best accompaniment to corned beef ever!
I'm not sure where I got the idea, but I've been using balsamic vinegar in my corned beef for years. It delivers a sweeter flavour without adding sugar or syrups. Chilli flakes add a fun hit of heat to the dish without making it too spicy for children.
Make sure you turn your slow cooker on high and use boiling water to start it off or it will take too long to get going. The beef will fall apart as you slice it and is fantastic on sandwiches the next day.
Slow Cooker Corned Beef with Honey Mustard Gravy
Ingredients
1 large cut of corned beef
2 medium brown onions, peeled and quartered
3 cloves of garlic, minced
¼ teaspoon chilli flakes
1 tablespoon black peppercorns
1 tablespoon yellow mustard seeds
3 bay leaves
1 tablespoon ground cloves or 6 whole cloves
¾ cup of balsamic vinegar
For the gravy:
25g butter
1 tablespoon plain flour
1 ½ tablespoons honey
1 tablespoon wholegrain mustard
½ cup cream
Salt and pepper to taste
Instructions
1. Boil a full kettle of water. Place the corned beef in the slow cooker dish and pour the boiling kettle water on top to cover. Add all the other ingredients to the slow cooker and set on High. Cook for 8 hours.
2. To make the gravy – melt butter in a medium sized saucepan and add the flour to form a roux. Strain two cups of broth from the slow cooker into a jug and slowly add to the saucepan while stirring constantly. Add the honey, mustard, cream and salt and pepper to taste.
3. Serve with creamy mashed potatoes, vegies and lots of honey mustard gravy poured over the top.
https://mumslounge.com.au/lifestyle/food/slow-cooker-corned-beef-honey-mustard-gravy/