Slow Cooker French Cream Chicken Recipe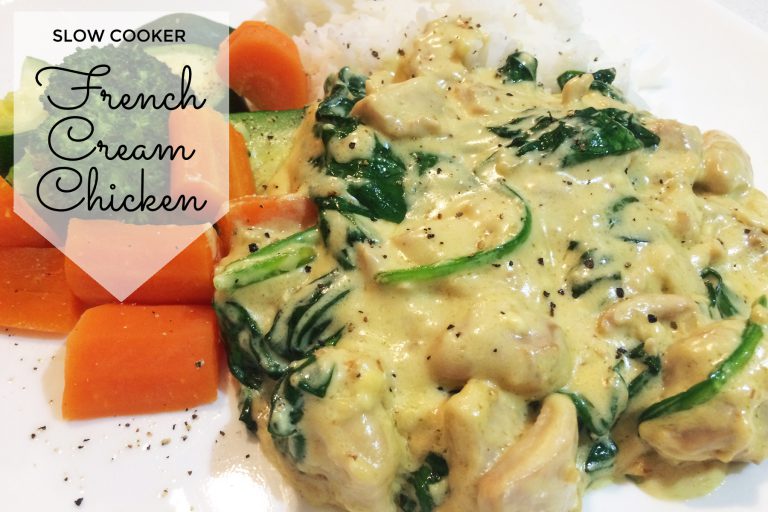 Slow Cooker French Cream Chicken Recipe
Yeah, I know, it doesn't look that pretty right? You won't see anyone Instagramming this meal! But I swear, this French cream chicken cooked in the slow cooker tastes a LOT better than it looks!
It's super simple to put together, too. And you can easily switch it up with different ingredients to change the flavours or add your favourite vegetables.
I found a similar recipe at Slow Cooker Central and just knew I'd have to try it. I've always loved creamy chicken with veggies and rice so this was right up my alley and made a lovely change to my normal go-to chicken recipes.
Here's what you'll need to get this meal on your dinner table.
A packet of chicken thighs, a packet of French Onion soup mix, some cream, a block of cream cheese and a packet of baby spinach.
Alternatives! Use flavoured cream cheese or a different flavoured soup mix! Try a spring vegetable soup mix with chive flavoured cream cheese and stir through chopped shallots and steamed beans and zucchini. Or use a cream of mushroom soup and add grilled mushrooms to the mixture at the end. What about a sweet chilli cream cheese with Italian soup mix? So many options!!
Okay, so here's what you do.
Grab a frying pan and cook the chicken in a little oil until it just starts to brown. Add the cream cheese and let it melt, then add the cream and soup mix. Then dump the mixture into your slow cooker bowl and cook on High for one hour and fifteen minutes. Stir through the baby spinach and serve with steamed vegetables and rice!
How easy is that?
It may look a little ugly, but for a meal that is super versatile and insanely easy, I'll let that slide.
Slow Cooker French Cream Chicken Recipe
Ingredients
600g chicken thigh fillets, diced
250g block of cream cheese
1 pkt French Onion Soup Mix
400ml cream
120g baby spinach leaves
Steamed seasonal veggies and rice to serve
Instructions
Heat oil in a frying pan to medium high and cook chicken until just browned. Add cream cheese and stir as it melts.
Add cream and soup mix and stir to combine.
Pour creamy chicken mixture into a slow cooker and cook on High for 1 hour and 15 minutes.
Stir through spinach and serve with rice and veggies.
https://mumslounge.com.au/lifestyle/food/slow-cooker-french-cream-chicken-recipe/