ZURU Fidget Cube™ is More Than a Fun Craze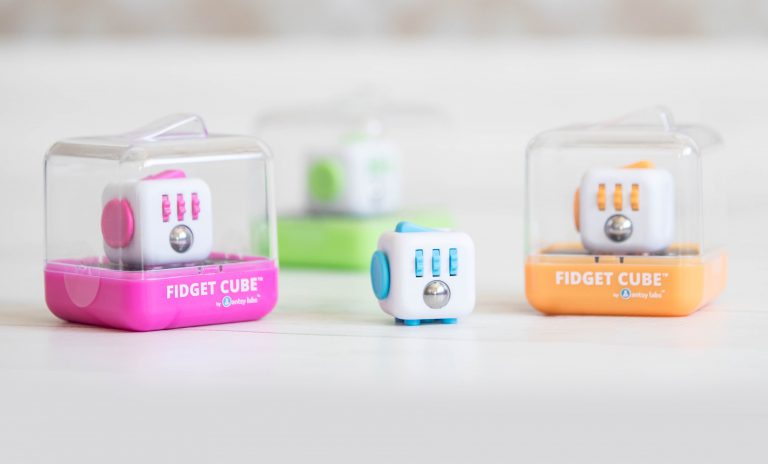 ZURU Fidget Cube™ is More Than a Fun Craze
It's official – fidgeting has never been more fun – especially with the original and best toy currently on the market – ZURU Fidget Cube™. No bigger than a large die, ZURU Fidget Cube™ has an 'activity' on each face which will keep your restless hands occupied whilst you focus your mind and concentrate on something else.
ZURU Fidget Cube™ was originally designed to help adults and kids relieve stress whilst increasing focus and productivity. It's understood that kids with special needs such as autism and other sensory disorders, in particular, may benefit from the use of sensory toys and activities, to allow them to focus better and concentrate on learning or another activity without disruption.
The six-sided desk toy, which comes in eight different colours, is equipped with an array of addictive features including five clicker buttons (two of which are silenced so you won't annoy people!), a switch to flick up and down, and a side in the design of a gaming joystick to enjoy the unusually satisfying gliding action.
This nifty little gadget is so absorbing it's hard to say which family member would love ZURU Fidget Cube™ more – the kids or the adults. Need a bit of parental time out? Soothe your nerves with a gentle flick of the switch. Kids pushing your buttons? Offer them a fidget cube so they can push some buttons for real!
The fidget toy craze is currently so massive that it's already destined to go down in history along with the Rubik's Cube, Cabbage Patch Dolls and Hula Hoop as one of the most popular toy fads of all time. However, many of the fidget toy versions now flooding the market are actually copycat knock-offs, that aren't a patch on the original.
ZURU Fidget Cube™ has been produced in accordance with the highest-quality specifications. A whole lot of fun in a tiny package, it's the original and best product on the market for fidgety people of all ages.
ZURU Fidget Cube™ designed by Antsy Labs is the original and best and is now in Australian stores for RRP$14.99 at Kmart, Big W, and Toys "R" Us.
#FreeTheFidget  – Headlining Fidget Cube™'s global launch is the world's most famous "finger tutter" 23-year-old John Hunt (aka PNUT) – who wowed everyone with his amazing finger dancing moves in Taylor Swift's Shake It Off videoclip. PNUT shows off his incredible finger moves with the cube in Fidget Cube™ commercials and other parts of the #FreeTheFidget campaign and has to be seen to be believed!
Check out the Fidget Cube™TVC with PNUT here:

For the stress heads, the fidgets at school or home and for the lovers of the tactile, at any age….this latest gadget is for you!
Check out Zuru's Facebook HERE and Instagram HERE
Win 1 OF 5 ZURU Fidget Cube™s!
To enter, answer this question – which person in your house would most love the ZURU Fidget Cube™ and why?
Terms and Conditions
By entering this Promotion, Entrants agree to abide by these Conditions of Entry. The promoter is Mums Lounge(the "Promoter").
This Promotion is not sponsored, endorsed, administered by or associated with Facebook/Instagram.
Entry to the Promotion constitutes acceptance of these conditions. All entry instructions and prize information published by the Promoter form part of these conditions.
The Promotion commences at 12am AEST on Saturday 8th July 2017 and closes at 12am AEST Sunday 6th August 2017.
Entry is open to Australian residents aged 18 years or older ("Entrant"). Entrants must ensure that their profiles are public so that we are able to contact winners. Employees and their immediate families of the Promoter, related companies of the Promoter and agencies associated with the promotion and their related companies are ineligible to enter.
To enter the Promotion, Entrants must visit the Mums Lounge website, then 'Comment' who in their family would most love a Zuru Fidget Cube and why. This must be submitted so that it is received during the Promotion Period ("Entry").
Entrants may enter the Promotion as many times as they like during the Promotion Period. Incomplete, indecipherable or inaccurate Entries will be deemed invalid. Entries are deemed to be received at the time of receipt into the Promotion database. The Promoter is not responsible for any delay in, or failure of, transmission which causes an Entry not to be received within the Promotion Period.
No purchase is necessary to enter. Purchasing products will not help your chances of winning.
The Prize is 5 x Zuru Fidget Cube, valued at $14.99 each..  
The winners will be drawn at random on Monday 7th August 2017 at Mums Lounge HQ. The Winner will be contacted via email within one day of being judged as the winner. The Winner will be announced in the Mums Lounge newsletter and via email within five days of being judged the winner. Allow up to 30 days for the delivery of prize.
This Promotion is a game of chance.
Entrants confirm that they will not post content which is or may be offensive, defamatory or which does not comply with these terms and conditions or the spirit of the Promotion. Any such posts will be deleted and the Promoter reserves the right to take further steps against any Entrant who posts such material. Entrants agree that they will not do anything which may bring the Promoter or any of its agencies into disrepute.
By entering this Promotion you authorise the Promoter to use content from your Entry on Mums Lounge Facebook page for an unlimited time and without remuneration.
Supplying your valid contact details on request of the Promoter if you are the winner is part of the conditions of entry to this promotion. All contact details entered incorrectly shall be deemed invalid.
The Promoter's decision is final and binding and no correspondence will be entered into. The Promoter reserves the right, at any time, to verify the validity of Entries and Entrants and to delete any post or disqualify any Entrant who submits an Entry that is not in accordance with these Conditions of Entry or the spirit of this promotion, including anyone who tampers with the Entry process including the use of any form of automated entry device or software.
The Promoter is not liable for any loss, damage or personal injury suffered or sustained as a result of, in connection with, or arising out of the Promotion or taking the Prize, except for any liability which cannot be excluded by law.
If for any reason the Promotion is not capable of running as planned, including but not limited to fraud or causes beyond the control of the Promoter or anything which corrupts or affects the administration, security, fairness, integrity or proper conduct of the Promotion, the Promoter reserves the right in their sole discretion to cancel, terminate, modify or suspend the Promotion, subject to any directions from a regulatory authority.
By participating in the Promotion, you release Facebook, Instagram, and Antslabs from any liability relating to the Promotion.  You understand that you are providing your information to Mums Lounge and not to Facebook or Instagram.  
The information Entrants provide will be used by the Promoter for the purpose of conducting this Promotion.  In order to conduct this Promotion, the Promoter needs to collect personal information about each Entrant and may for this purpose, disclose such information to third parties, including but not limited to agents, contractors, service providers, gift suppliers, including Antslabs, and regulatory authorities. Participation in the Promotion is conditional on providing this information.
The collection, use and disclosure of personal information in connection with the Promotion is governed by the Privacy Act 1988 (Cth) and the Privacy Act 1993 (NZ) (as applicable). By entering the Promotion, Entrants agree and consent to the Promoter using and disclosing the Entrant's personal information for the purposes of conducting the Promotion, redeeming the Prizes and any other matter connected to or incidental to the Promotion.  Entrants have the right to ask for a copy of any personal information about them that is held by the Promoter, and to ask for it to be corrected if the Entrant believes it is wrong. If you'd like to ask for a copy of your information, or to have it corrected, please contact the Promoter at [email protected]