S'mores Ice Cream Recipe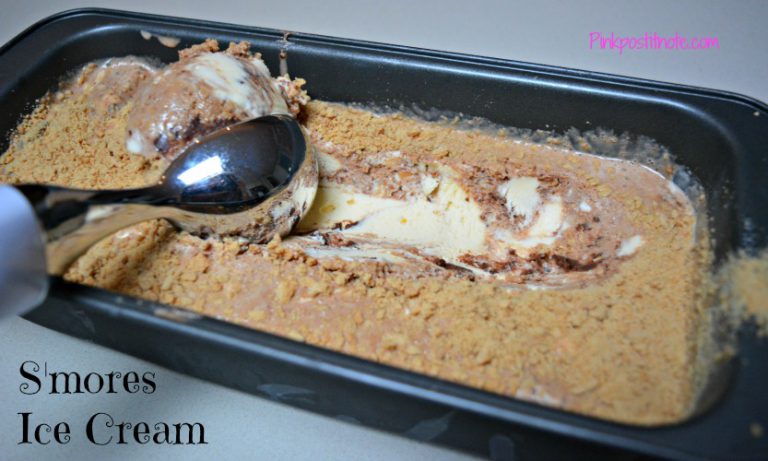 S'mores Ice Cream Recipe
Being Canadian, I grew UP on S'mores. There was no camping trip; none, without eating this delicious treat of two biscuits sandwiching a melted marshmallow and a square of chocolate. We used graham crackers which are very close to malted biscuits or marie biscuits. It seems though that all trends like Halloween eventually find their way down south and now this one is here too. Donna Hay has an entire section of her latest magazine dedicated to these treats in every form imaginable; ice cream, cookie sandwiches, pies, slice and a skillet version.
This is super easy (and a little bit of a cheat) to make. Store-bought vanilla ice cream, some crushed biscuits, some melted chocolate and some melted marshmallows are the only requirements. Mix it all together and pretend this took you days to put together!
Super easy and fast – you only have to allow 3 hours for it to re-set in the freezer.
Ingredients
100g dark chocolate, chopped
1/4 cup cream
2 cups (180g) white marshmallows
1 tbsp. milk
2 litres store-bought vanilla ice cream
100g malt biscuits, finely crushed
Instructions
Place a 1.3 litre capacity metal loaf tin (bread loaf size) in the freezer until ready to use.
Place the chocolate in a small bowl. Place the cream in a small saucepan over high heat and bring to just before boiling point. Pour the cream over the chocolate and stir until melted and smooth. Refrigerate for 20 minutes to cool.
While the ganache is cooling, place the marshmallows and milk in a medium saucepan over low heat and stir until melted.
Scoop the ice cream into the bowl of an electric mixer and beat on low speed for 1 minute or until softened.
Working quickly, add the marshmallow mixture, chocolate ganache and biscuit to the ice cream and gently fold to combine.
Spoon into the prepared chilled tin and freeze for 3-4 hours or until set.
https://mumslounge.com.au/lifestyle/food/smores-ice-cream-recipe/