Super Easy One Pan Chicken Marsala Recipe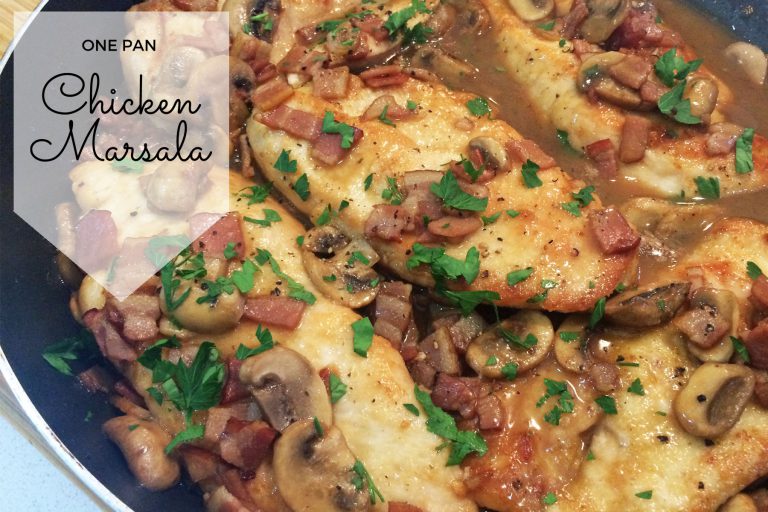 Super Easy One Pan Chicken Marsala Recipe
I had no idea how easy it was to make chicken marsala. Juicy, perfectly cooked chicken snuggled in a rich, wine sauce with bacon and mushrooms. Served with creamy mashed potatoes and steamed greens, this meal rates up there with the very best.
What the hell have I been thinking all my life? This recipe is now firmly entrenched in my recipe collection and I have plans to make it again soon!
I've seen some recipes online for chicken marsala. They ask you to purchase the finest prosciutto and crimini or porcini mushrooms, but you know what? I am not that person. I am a mum feeding her family, and I shall leave the fancy stuff with the fancy people. So I used normal mushroom cups from the fresh produce section of my supermarket, and nice bacon from the cold section. And it was beautiful.
Here's what you'll need to add to your shopping list:
Chicken breast fillets, bacon, button mushrooms, parsley, unsalted butter, a chicken stock cube, salt and pepper, Marsala wine, plain flour and olive oil. Too easy.
Firstly, you need to slice the chicken in half horizontally to make two thinner steaks out of each chicken breast fillet. Then pop them in some seasoned flour to coat each side and pan fry in some olive oil until cooked through and golden on each side.
Then remove the chicken to a plate and add the chopped bacon. Cook until golden, then add the mushrooms and continue to cook until they are nicely done. Then it's just a matter of adding the Marsala, chicken stock and some butter to the pan, giving everything a good stir and a simmer, and you're almost finished! Return the chicken to the pan, spoon the sauce over to coat and simmer for a few minutes until the chicken is heated through.
Serve with mash and steamed vegetables for a complete meal everyone will love!
Super Easy One Pan Chicken Marsala
Ingredients
4 – 6 chicken breast fillets (depending on how many you are serving)
1/3 cup plain flour
salt and freshly ground black pepper
1/4 cup olive oil
4 rasher of bacon, chopped
200g mushroom cups, sliced
1/2 cup sweet Marsala wine
1 chicken stock cube, dissolved in ½ cup of water
2 tbsp unsalted butter
1/4 cup chopped flat-leaf parsley
Mashed potatoes and steamed veggies to serve
Instructions
Slice chicken breasts horizontally to make two thinner steaks from each one. Put some flour on a plate and season with salt and pepper and mix to combine.
Heat a frying pan over medium high heat and add the oil. Place the chicken into the flour to coat both sides, shake off excess and place into hot oil. Fry for 5 minutes on each side until golden. Remove the chicken to a plate and cover with foil.
Add the bacon to the pan and sauté until golden, then add the mushrooms and sauté until nicely browned, about 5 minutes. Pour the Marsala in the pan and boil for a few seconds to cook out the alcohol. Add the chicken stock and simmer to reduce the sauce slightly. Stir in the butter and return the chicken to the pan; simmer gently for a few minutes to heat the chicken through. Season with salt and pepper and garnish with chopped parsley before serving with mash and veggies.
https://mumslounge.com.au/lifestyle/food/super-easy-one-pan-chicken-marsala-recipe/