Tart au Chocolat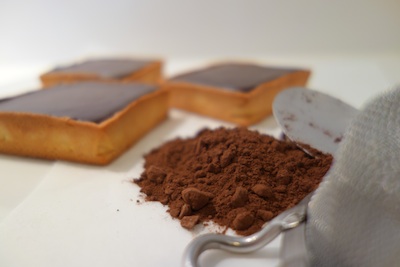 Individual Tart Au Chocolat
Pate Sucrée
best prepared 1 day before assembling the tart
yield: 10 – 12 cm x 6 cm rectangular tart moulds
200g butter, softened
100g icing sugar, sifted
1/8 tsp. salt
25g whole egg
300g plain flour
1) Cream the butter, icing sugar and salt until light but not fluffy.
2) Add the beaten eggs and mix just until combined.
3) Add the flour into the butter mixture. At low speed run the mixer with a paddle attach-ment and mix just until combined.
4) Gather the dough and form it into a flat disk. Wrap it with plastic wrap and refrigerate for an hour.
5) Roll and fit it into a tart mould. Refrigerate for at least 2 hours or at best overnight.
6) Preheat your oven to 170 C. Line the tart shell with baking paper and fill it with pie weights. Bake it for 15 minutes. Check the bottom of the tart if it is dry by lifting the edges of the paper carefully. Remove the pie weights once the paper does not stick on the dough anymore.
7) Reduce the oven temperature to 160 C and bake for approximately 10-15 minutes until a nice golden colour is achieved. Cool on wire racks.
Chocolate Ganache
best prepared on the day the tart is to be assembled
yield 10 – 12 x 6 cm rectangular tart moulds
250 g cream
36g glucose
227g dark chocolate couverture ( at least 57% cocoa content), chopped
56g unsalted butter, softened
1) Boil the cream and the glucose. Pour it over the chocolate couverture pieces.
2) With a stick blender, blitz the cream and chocolate mixture until it is homogenised.
3) Add the softened butter and blitz just until combined.
4) Pour the ganache into a shallow container and cover it with a plastic film touching the surface. This prevents the ganache from drying out while cooling. Allow the ganache to cool at room temperature
Assembly
150g dark couverture chocolate
Cocoa Powder ( for garnishing)
Melt the dark couverture chocolate and brush an even thin layer on to the tart base. Refrigerate until the chocolate has set. Pour the ganache, sieve an even layer of cocoa powder on top just before serving. Serve it at room temperature. It is the best and only way to have it. 🙂
Biography
Elaine was the Head Chocolatier at Cacao Fine Chocolates. She managed a team producing the best and finest chocolates distributed in some of the most prestigious Hotels and Airlines in Australia. She has participated in a couple of nationwide competition contending against the best chocolatiers and pastry chefs in her field.
Prior to being a chocolatier, Elaine worked at the Grand Hyatt Hotel in Melbourne as a Pastry Chef. This is where she built her savviness in pastry production from restaurant desserts, delicious breakfast items, afternoon tea buffets to major functions and events.
She has also been a consultant for Nestle and other major food companies back in Asia providing support to advertising and events through cooking demonstrations, training, customer seminars; and support to R&D through product testing and development, innovation and renovation of recipes.
She has also instructed Baking and Pastry as well as Food Safety and Sanitation classes at the Global Culinary & Hospitality Academy.
As an expression of her creativity, Elaine created beautiful wedding cakes before migrating to Melbourne and her work has been featured in magazines and society pages in the daily papers.
Elaine continuously improves her pastry skills through regular professional training here in Australia and most recently through advanced pastry and chocolate training in Paris – France.
Elaine's love for baking has taken her from Manila to Paris and finally to Melbourne searching for the best flavours, patisseries and techniques and is currently sharing all these experiences, tips and tricks to Melbourne pastry and chocolate afficionados. She holds weekend pastry classes at the South Melbourne Market and events with the Melbourne food experiences as well as Training Sessions with the Center for Adult Education. It is a life long journey of playing with flour, sugar and chocolates and Elaine's new adventure is just about to begin.
www.ediblejourneys.com.au
https://www.facebook.com/elainesediblejourney