Teriyaki Beef Noodle Stir Fry Recipe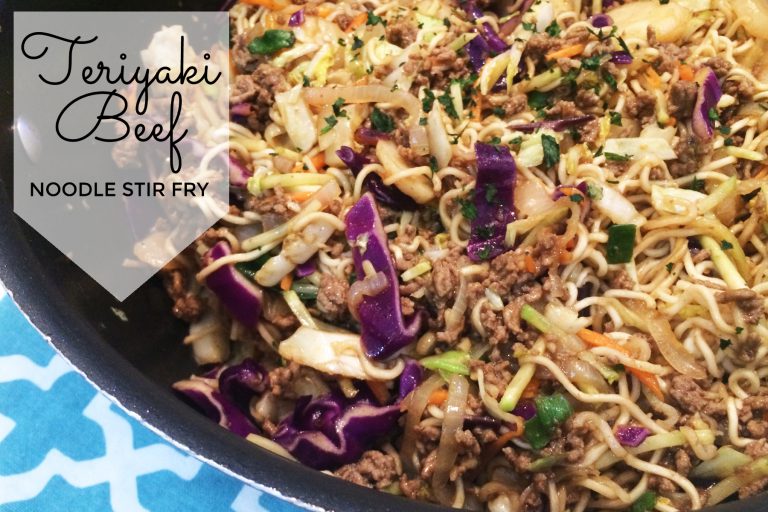 Teriyaki Beef Noodle Stir Fry Recipe
We're still on a massive stir fry binge at my place because the kids just adore them. And what could be better than a fresh, tasty teriyaki beef meal that is absolutely packed with vegetables and on the table in less than twenty minutes or so? Nothing! Plus — noodles! Everyone loves noodles, right? They are so fun!
This quick and easy teriyaki beef stir fry is so simple to put together, but even more so if you opt for pre-packaged stir fry veggies from the supermarket. I mean, you can just as easily buy your own and chop them yourself but I just couldn't be bothered. I'm all for taking shortcuts when they are presented to you, especially when they are a cheaper option!
Here's what you'll need to make this yummy noodle stir fry:
Some of the afore-mentioned stir fry veggies, three packets of beef flavoured Maggi noodles, some oil, an onion and some garlic, half a kilo of mince, a tin of sliced water chestnuts for something fancy, and about half a jar of teriyaki marinade or sauce.
Here comes the fun part! Prepare the noodles by placing them all in a big bowl (flavour sachets too) and pouring boiling water from the kettle over the top. Then leave them to stand for a couple of minutes before separating the noodles with a fork. Drain and set aside.
Now heat your wok or big frying pan over moderately high heat and add the oil. Cook the chopped onion and garlic until soft, then add the mince. Once your mince has been browned and the fat drained away, add the sauce, water chestnuts and stir fry veggies and cook until done. Then add the noodles and mix through.
How easy is that? This would be a perfect meal to get the kids involved with — our children love helping in the kitchen and this recipe is a good one for them to make with a little help.
Teriyaki Beef Noodle Stir Fry Recipe
Ingredients
3 x 74g packets of beef flavoured Maggi Noodles
2 tsp vegetable or peanut oil
1 onion, thinly sliced
2 cloves garlic, crushed
500g beef mince
1/2 cup teriyaki sauce
227g can sliced water chestnuts, drained
500g chopped stir fry vegetables
Instructions
Place noodles and flavour sachets in a large heatproof bowl and cover with boiling water. Stand for two minutes or until tender. Stir with a fork to separate noodles and drain.
Heat a wok or large frying pan over moderately high heat and add oil, swirling to coat. Stir fry onion and garlic for two minutes or until softened. Add mince and cook, stirring to break up lumps, for five minutes or until browned. Drain off any fat.
Add teriyaki sauce, chestnuts and stir fry vegetables and cook for three minutes or until sauce thickens and the vegetables have softened. Add noodles and toss to combine. Serve immediately.
https://mumslounge.com.au/lifestyle/food/teriyaki-beef-noodle-stir-fry-recipe/