The Best Crispy Chicken Wings Recipe Ever!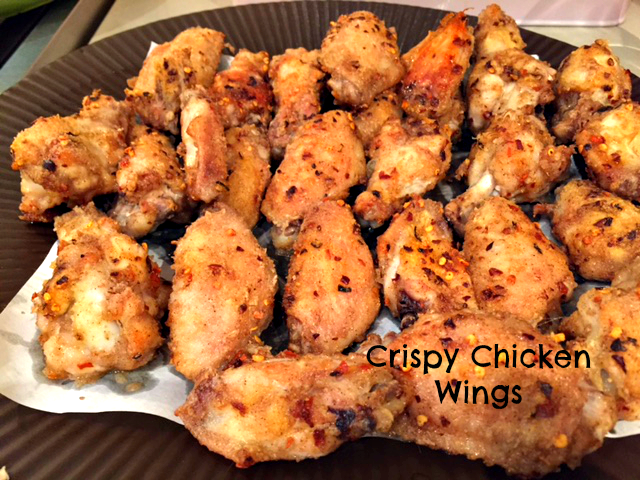 Crispy Chicken Wings Recipe
I cannot tell you how many times I've made these Crispy Chicken Wings now. I am convinced that these are the best wings you will ever eat. I am a great lover of chicken wings and I am constantly trying new versions of them, really just for the hell of it because I keep going back to these ones.
And they are so, so incredibly easy. For a start, there is no messy frying because these are baked in the oven. Secondly, there is no sauce to make, the toppings are tossed together before they bake. And thirdly they are super crispy and have a sensational flavour from a bit of chilli and Chinese five-spice. If you are not a huge chilli fan, maybe cut back a little bit but these are not burn your mouth hot and every single person I've ever served these too has absolutely raved about them.
This is perfect party food because there's no messy sauce like a lot of wing recipes have and it is a great entrée instead of the regular cheese board (half of which usually gets tossed out because it gets left sitting out too long). These won't last long, trust me.
Adapted from Donna Hay's recipe
The Best Crispy Chicken Wings Recipe Ever!

Ingredients
1.5kg chicken wings (preferably already cut as you don't need the tips)
1/3 cup cornflour (cornstarch)
4 tbsp vegetable oil
2 tbsp sea salt flakes
1 tsp Chinese five-spice powder
2 tsp dried chilli flakes
Optional to serve: hot chilli sauce, pickled chilli, thinly sliced fresh chilli, chilli mayonnaise (I put some chilli powder with some mayo in a bowl and served with another bowl of chipotle sauce) or Ranch dressing.
Instructions
Preheat oven to 220C (425F). Line a large baking tray (preferably with a lip so fat doesn't run off) with non-stick baking paper Using kitchen scissors, trim the tips from the wings and discard. Cut the wings in half at the joint and place in a plastic bag with the cornflour. Shake to coat, dusting off any excess cornflour.
Place the oil, salt, five-spice and dried chilli in in a large bowl. Add the wings and toss to coat. Place on a baking tray and roast for 25-30 minutes or until crisp. Serve with the chilli sauce, chillies and chilli mayonnaise.
https://mumslounge.com.au/lifestyle/food/the-best-crispy-chicken-wings-ever/
Carolyn started her blog Pinkpostitnote.com just over a year ago as a way to deal with her obsession of trying new recipes from the copious collection of cookbooks that she owns (and continues to buy). She is particularly fond of "man" food, both cooking it and eating it. She will happily elbow people out of the road at the sight, sound and smell of a pulled pork burger. When she's not lying awake at 5am wondering if she should buy chooks and a cow to deal with the constant need for eggs and butter, she's dealing with all the paperwork associated with owning a bunch of tip trucks and her favorite time of the day is wine five o-clock.