Crunchy Asian Chicken Salad Recipe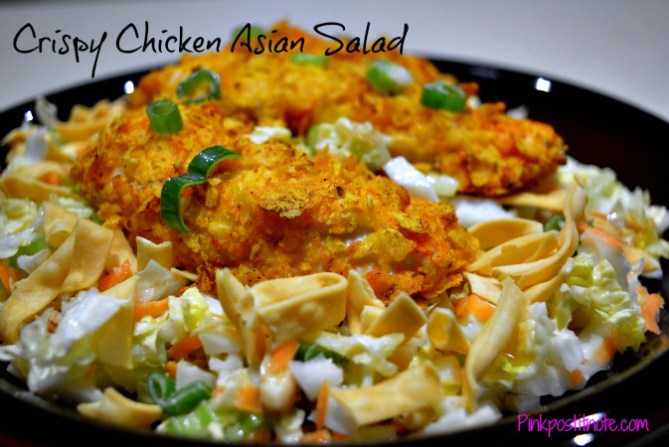 Crunchy Asian Chicken Salad Recipe
This salad is one of the most delicious salads I have ever had anywhere – it's got crunchy coated chicken pieces (cooked in the oven), it's got crunchy salad elements from cabbage, spring onion, toasted almonds and Chinese noodles and it's got a dressing to absolutely die for. I had a salad very similar to this when we visited Hawaii and I went back to the same restaurant and ordered it for lunch every day.
Your entire family will devour this, I promise. My kids absolutely loved it when they still lived at home and I still make this all the time, it is so delicious!
Crunchy Asian Chicken Salad Recipe
Ingredients
Chicken
8 chicken tenderloins
2 cups buttermilk (you can make your own by putting 1 tbps vinegar in 1 cup of milk and letting it sit for 10 min) and buttermilk is LOW fat
2 tsp Dijon mustard
2 tsp garlic powder
100g corn chips, crushed
3 tsp paprika
1/2tsp cayenne pepper
Salad
2 cups of shredded cabbage
2 cups of chopped crunchy lettuce leaves
1 grated carrot
2 sliced green onions
1/4 cup of slivered, toasted almonds
1/4 cup Crunchy Chinese noodles
Dressing
1 tbsp Dijon mustard
3 tbps honey
1 1/2 tbps vinegar
4 tsps mayonnaise
1/8 tsp sesame oil
Instructions
Chicken: Combine buttermilk and mustard in a glass or ceramic bowl. Add chicken. Toss to coat. Cover. Place in fridge for 1 hour or overnight to marinate. Preheat oven to 220C/200C fan-forced. Line a baking tray with baking paper. Spray a wire rack with cooking oil and place over tray.
Combine crushed corn chips, paprika, garlic powder and cayenne pepper to taste in a shallow bowl. Drain chicken from marinade. Coat in chip mixture. Place on rack. Spray with cooking oil. Bake for 30-35 minutes or until golden and chicken is cooked through.
Salad: Combine cabbage, lettuce, carrot, green onions, almonds and noodles together in large bowl.
Dressing: Whisk mustard, honey, vinegar, mayonnaise and sesame oil together and pour over salad ingredients, stir to combine. Serve chicken on top of salad.
https://mumslounge.com.au/lifestyle/food/crunchy-asian-chicken-salad-recipe/
Carolyn started her blog Pinkpostitnote.com just over a year ago as a way to deal with her obsession of trying new recipes from the copious collection of cookbooks that she owns (and continues to buy). She is particularly fond of "man" food, both cooking it and eating it. She will happily elbow people out of the road at the sight, sound and smell of a pulled pork burger. When she's not lying awake at 5am wondering if she should buy chooks and a cow to deal with the constant need for eggs and butter, she's dealing with all the paperwork associated with owning a bunch of tip trucks and her favorite time of the day is wine five o-clock.