Triple Chocolate Oreo Cheesecake Recipe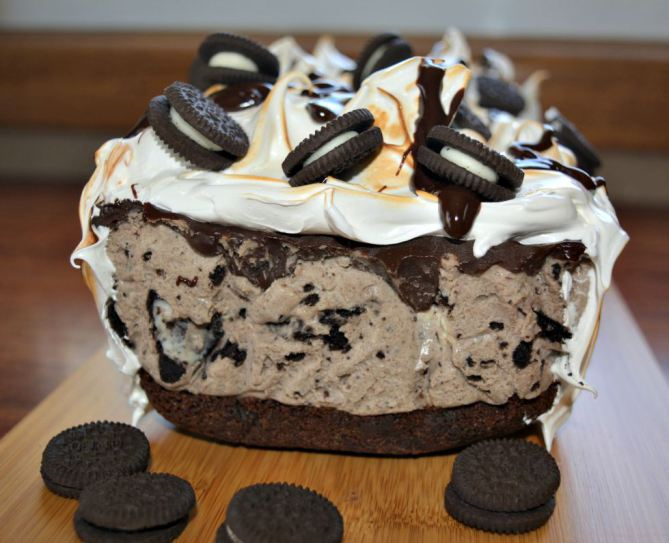 Triple Chocolate Oreo Cheesecake
I know right? Triple Chocolate. Oreo. Cheesecake. Together… Oh, and with toasted meringue on top. Oh and some more little baby oreos on top of that! Are you thinking you might put this on the Christmas dessert menu or are you thinking bugger that, I want it this weekend!
Incredibly easy to make – the only sad thing is you have to wait 8 hours for the cheesecake to set. So you could start this at say 9am in the morning and still whip it out for dessert but I recommend starting this the day before you plan on showing off serving this to save on stress. The base and cheesecake part will be ready to pop in the fridge in around 10 minutes. Then it's just a quick drizzle of ganache on top, spread it with meringue and decorate. If you don't have a mini blow torch to toast the meringue I'm guessing you can pop it under the grill in your oven for just a minute or two but don't quote me on that!
Triple Chocolate Oreo Cheesecake Recipe
Ingredients
Base
200g plain chocolate biscuits
50g butter, melted
Cheesecake
2 x 250g packet cream cheese, softened
155g (3/4 cup) caster sugar
2 tsp vanilla extract
130g (1/2 cup) sour cream
250g Oreos, coarsely chopped
2 tbs hot water
2 tsp gelatine powder
Chocolate Ganache
100g dark cooking chocolate, chopped
60ml (1/4 cup) thickened cream
Italian Meringue
315g (1 1/2 cups) caster sugar
60ml (1/4 cup) water
4 egg whites, room temperature
pinch of cream of tartar
To Decorate
50g dark chocolate, finely chopped
2 tbs thickened cream
mini Oreos
Instructions
Line a 6.5cm deep, 9 x 21cm loaf pan with baking paper, allowing the sides to overhang.
Base: Crush biscuits in a food processor, then add the butter and process until combined. Line the base of the pan with the mixture and refrigerate while you prepare the cheesecake filling.
Cheesecake: Using electric beaters or a food processor, beat the cream cheese and sugar until smooth. Add the yoghurt and mix to combine. Add the oreos and beat to combine. Place water in a heatproof bowl and sprinkle with the gelatine. Place the bowl in a larger bowl half-filled with boiling water and stir until gelatine dissolves. Add the gelatine to the cream cheese mixture and combine thoroughly. Pour onto base, smooth the surface and allow to set for 8 hours or overnight.
Chocolate Ganache: Put the chocolate and cream in a microwave safe bowl and cook, stirring every 30 seconds until melted and smooth. Set aside to cool slightly then spread over the cheesecake and place back in the fridge while you prepare the Italian Meringue.
Italian Meringue: Beat the egg whites and cream of tartar together until soft peaks form. Meanwhile, place the sugar and water in a small saucepan over high heat, swirling the pan gently from time to time so the sugar melts evenly. Cook without stirring until a candy thermometer reaches 120C. If you haven't got a thermometer, keep a bowl of chilled water nearby and test to see if it's ready by dropping a tsp into the water, if it goes hard, it's ready. With the mixer running, pour the sugar syrup into the egg whites slowly (try to keep it off the sides of the bowl as it will go hard – if you get any on the side of the bowl, leave it there, don't try to mix it in) and then beat until smooth and glossy and cool to the touch – about 5 minutes. Spread the meringue over the top and sides of the cheesecake and use a cook's blow torch to caramelise the meringue.
To Decorate: Melt the chocolate and cream together in the microwave and drizzle over the meringue. Top with the mini Oreos.
https://mumslounge.com.au/lifestyle/food/triple-chocolate-oreo-cheesecake-recipe/
Carolyn started her blog Pinkpostitnote.com just over a year ago as a way to deal with her obsession of trying new recipes from the copious collection of cookbooks that she owns (and continues to buy). She is particularly fond of "man" food, both cooking it and eating it. She will happily elbow people out of the road at the sight, sound and smell of a pulled pork burger. When she's not lying awake at 5am wondering if she should buy chooks and a cow to deal with the constant need for eggs and butter, she's dealing with all the paperwork associated with owning a bunch of tip trucks and her favorite time of the day is wine five o-clock.