Five Common Mistakes People Often Make When Wearing a Face Mask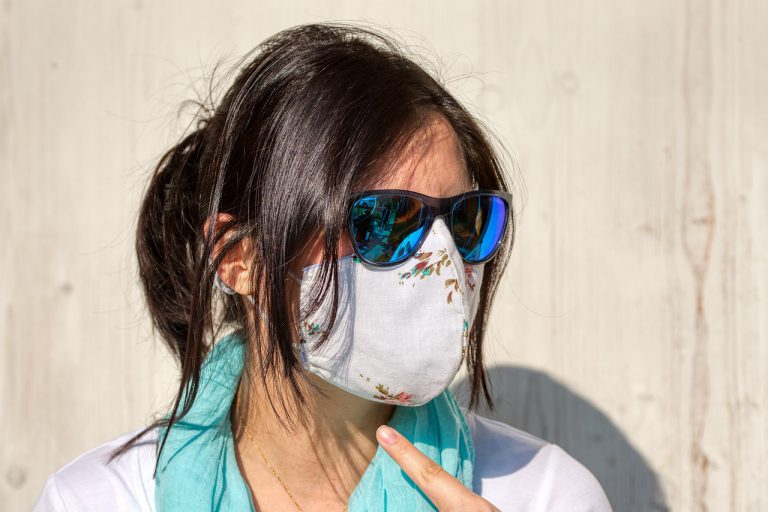 Five Common Mistakes People Often Make When Wearing a Face Mask
Even though we are well into the pandemic, people are still making mistakes when it comes to wearing their face masks properly. There is absolutely no doubt that wearing a mask helps prevent the spread of the virus, so we must wear them correctly to keep everyone safe.
We see people making these mask-wearing errors every time we go to the shops for our essentials, and while we often feel like shouting at them to wear their flipping masks properly, politeness takes over and they pass us by with a small shake of the head in their general direction.
It doesn't seem to matter whether they are wearing the basic blue disposable paper masks or reusable fabric ones, many people are not properly protecting themselves and others from the virus by making these common mistakes. Are you making them, too?
1. Exposing your nose
There is no point in wearing a mask if your nose is exposed while doing so. Your mask shouldn't just cover your nostrils but instead should go up to the bridge of your nose, ensuring that it doesn't accidentally slip down while in use. Here is a picture of Adele not wearing her mask properly.
View this post on Instagram
And let's not forget this gem:
Wearing your mask wrong?

That's a #credlin pic.twitter.com/rpGeo8pPae

— Dr Bob Vickers (@Sir_Vickz) October 9, 2020
2. Wearing a mask above your chin
Your mask won't fit snugly on your face it is chillin' above your chin. It can easily ride up higher when you are speaking, breathing, or singing along to the awesome songs in the supermarket. Make sure your mask goes all the way under your chin to ensure you are wearing it correctly.
3. Wearing a mask too loose
It's easy to ensure that your disposable face masks fit correctly at the sides by either twisting or tying a knot in the elastic at the sides before putting them on, creating a snug fit. Most fabric masks come with adjustable elastic loops, too. Remember, the more your breath and other stuff from your nose and mouth can leak into the air, the more useless your mask becomes.
Here is a delightfully helpful picture of Joe Jonas wearing a comical mask of his brother's face that is, unfortunately, too big.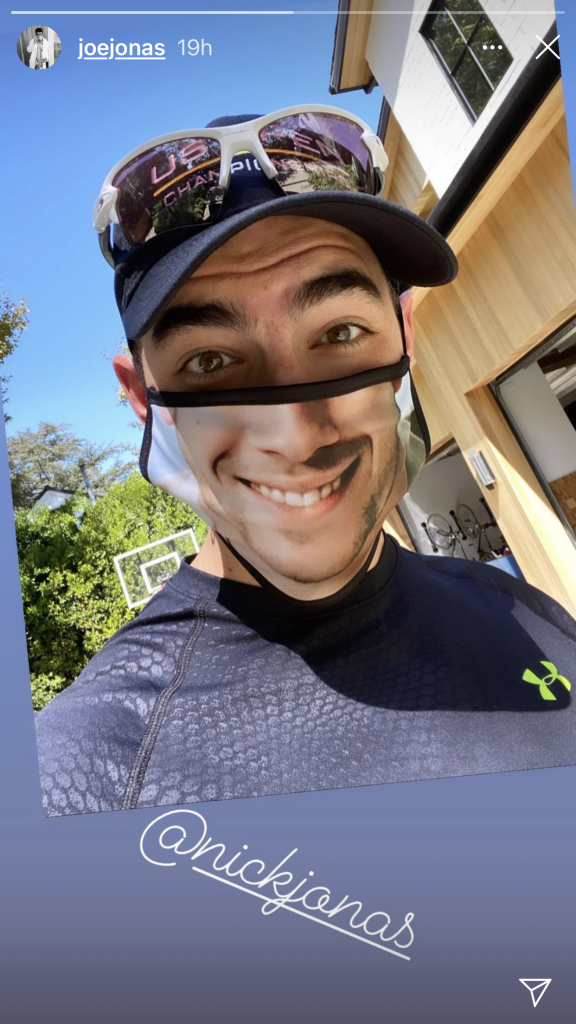 4. Wearing your mask upside down or inside out
Granted, it can sometimes be difficult to tell if your mask is upside down if you have a handmade fabric one without a metal strip that obviously goes above the bridge of your nose to create a tighter fit. But it is important to figure it out in order to wear it properly.
Most medical masks have a clear inside and a clear outside that are made out of different materials or constructed in different ways. Therefore, such masks will not function properly if they are inside out. Wear the disposable masks with the blue side facing out.
5. Wearing a dirty mask
Treat your mask like you would underwear — keep it clean and dry. Wash it frequently or replace it with a new mask, depending on what sort of mask you have. If your mask smells bad or looks dirty, that is a bad sign and you should do something about it, just as you would your undies. Also, don't touch your mask while you are wearing it. This helps avoid contaminating the front of the mask or your hands.
Notable mention: Pulling your mask down to talk to people
If someone pulls down their mask or unhooks it from their ears when talking to others, they're defeating the purpose of wearing a mask. I don't know how many people I've seen wandering about the shops, talking on their phones, with their masks under their chins. Don't do it.
Here is a nifty video from the World Health Organisation about how to wear medical face masks.

And here is their video regarding the use of fabric face masks.

Have you been wearing your mask correctly?