Ginger Chicken, Snowpea, and Asparagus Parcel with Brown Rice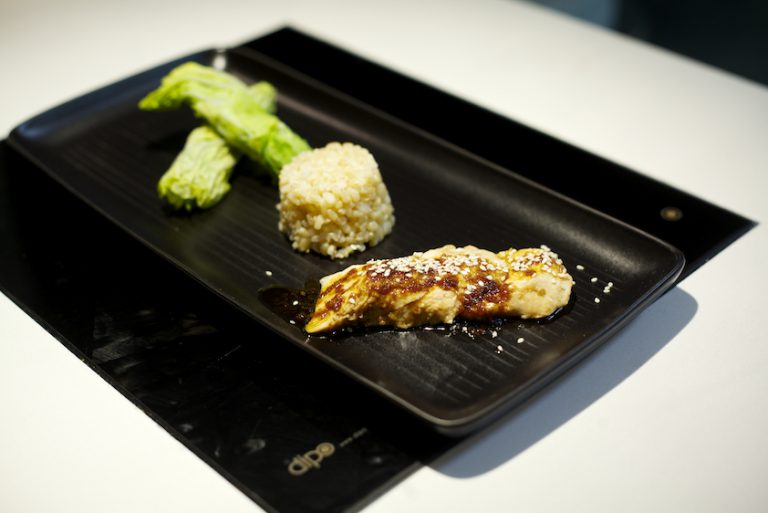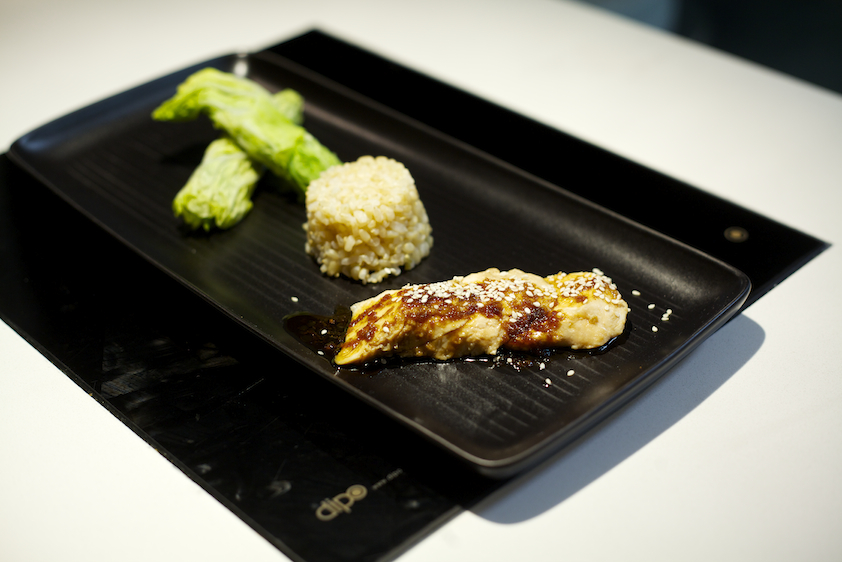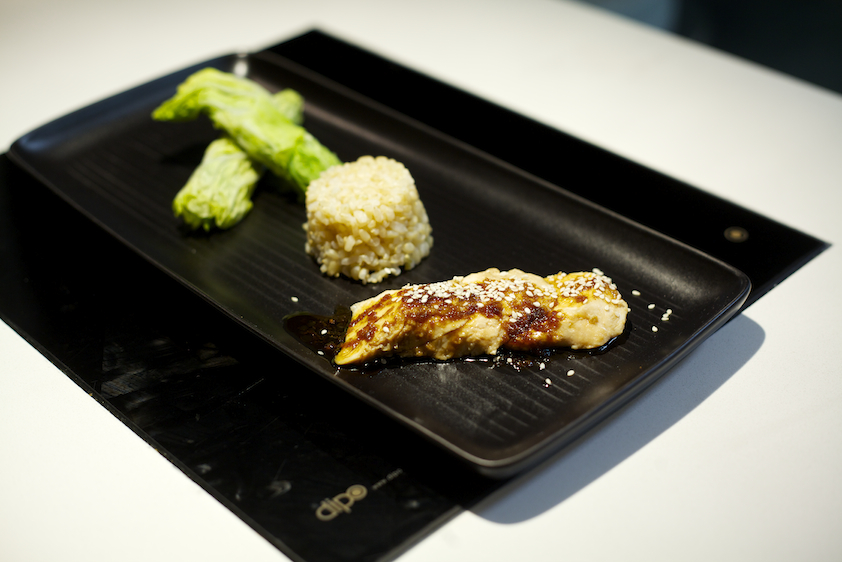 Ginger Chicken, snow pea and asparagus parcel with brown rice
SERVES 1
Ingredients:
150g Skinless Chicken Breast
8 pieces snow peas
4 pieces asparagus spears
2 Chinese cabbage leaf blanched
25g Brown Rice
Dressing:
¼ clove chopped garlic
5g grated ginger
10ml Low Salt Soy Sauce,
10g Ketjap Manis,
10ml Rice Wine Vinegar
125tsp Sesame Oil
Garnish:
20g chopped green shallot
10g Sesame seeds, raw
Method:
1. Cook Brown rice by absorption method. Portion evenly into Dariole moulds.
2. Combine dressing ingredients. Marinate chicken with half the dressing.
3. Steam chicken till cooked. Cut into 2 at an angle.
4. Blanch cabbage leaf.
5. Place snow peas and asparagus in centre of leaf and roll into a parcel making 2 parcels for 1 serve.
6. Place on tray. Steam parcel until vegetables are cooked.
Assembly:
1. Place parcel on centre of plate.
2. Place chicken on a slant so half of it sits on the parcel and the other half on the plate.
3. Place rice timbale on the top left hand side of the plate.
4. Drizzle the dressing around. Garnish with
NuYu Total Health is Australia's premiere health and fitness retreat with two great locations. The retreat offers targeted and comprehensive behaviour change programs that cover every aspect of healthy living including the mental and emotional support required for long term success. NuYu do not believe in extreme dieting or other short-term options, they offer a sustainable healthy lifestyle approach that includes all major food groups. The NuYu eating plan was devised by acclaimed nutritionist Dr Joanna McMillan, tastes delicious, will help you lose weight and not leave you hungry."