Proof Burgers are BETTER Than Superfood Salads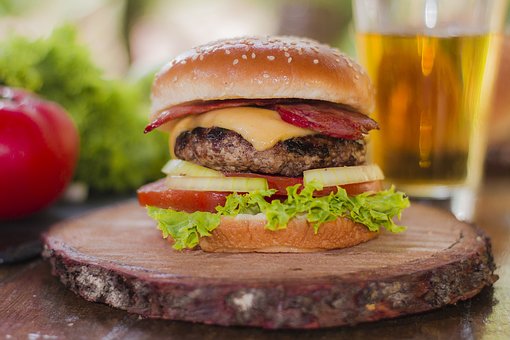 Proof Burgers are BETTER Than Superfood Salads
Several years ago I had a plan to open up a chain of take-away salad shops. I was going to call it Seize Our Salads (get it)? They were going to be just like those self-serve yoghurt shops. You come in, grab a small, medium or large plastic bowl and start with the greens; cos, butter or iceberg lettuce, continue along to the vegetables; mushrooms, capsicum, carrot, cucumber, tomato, bean shoots, then to the good stuff; toasted pine nuts & flaked almonds, crunchy croutons (plain, garlic & chilli), bacon bits, roast chicken (tandoori or garlic & herb), smoked ham, tuna & salmon, then the cheeses; goat's, feta, tasty, parmesan and finally to the dressings where they would be pre-filled in little tubs in 20 different varieties. Grab your fork, napkin, weigh it and out you go. I was going to make a killing opening alongside every gym in every suburb.
My concept was based on the phenomenal success that Boost Juice enjoys. No matter how many employees they have and how big their store is, those places always have people queued up patiently to get their daily serve of fruit and veg with their varieties of freshly squeezed fruits and vegetables mixed with low-fat milk or yoghurt and blended with shots of wheatgrass.
And the reason for my success? Because everyone knows that burgers are bad, right? And salads and juices are healthy, yes?
It may just well be very fortuitous I didn't head to the bank for a loan because a leading Melbourne-based fitness coach and diet expert Jacob Schepsis, of JPS Health & Fitness has reported on his blog here that:
"A nutrition analysis shows the average "superfood" salad bowl – made up of ingredients including quinoa, chicken and feta – contains at least 820 calories, while a burger has about 740 calories.
They add a lot of tasty extras to a salad and it ends up becoming more calorie-dense than a burger. That's not to say a salad doesn't contain more micronutrients, vitamins and minerals than the burger, but at the end of the day, eating more calories than what we think isn't healthy either.
That's why sometimes, a burger actually has less calories than a salad. Those "extras" include feta, seeds, nuts, cheese, crumbled meat and fish, oils and dressings that drive up calories in an average "superfood" bowl. If you're getting a lot of nutrients in, you're probably getting a lot of calories too. And if your calorie intake exceeds your energy expenditure, you'll gain weight."
So truth be told, I actually already knew this – that all the delicious tid-bits that transform plain boring lettuce into something sensational is where all the calories lie hidden. Just like a lot of people are completely unaware that those juices they are queuing up for may as well be a chocolate thickshake as they are FULL of sugar. I was hoping I would get away with it though you see, long enough for someone to pay me millions to buy out my franchise. Alas I was too late as the secret is out of the bag. Damn you Jacob.
So, if you really want a burger for lunch? Go ahead and have it, just keep it to one patty, choose grilled chicken instead of deep fried, minimise the cheese and sauce (even try asking for the sauce on the side). Skip the chips and go for a diet soft drink instead of a milkshake or regular soft drink. And then hit the gym!