Recipe: Quinoa and Chicken Nuggets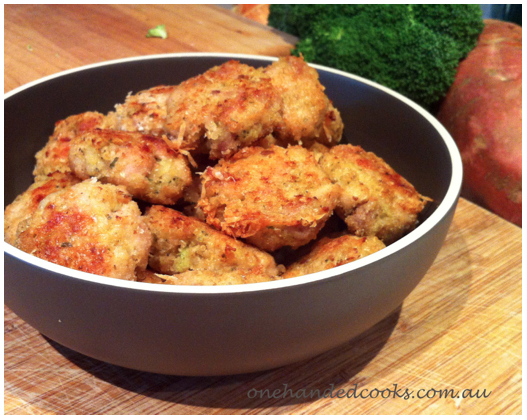 Quinoa and Chicken Nuggets
If you have not yet cooked with quinoa now is the time to start. This 'super food' is very high in vitamins and a superior source of fiber, iron and calcium, the key components for a healthy child's nutrition. Not that your little angel will care about any of that, they'll just know they taste nom nom nom.
Ingredients
Makes 24 nuggets
1/2 cup water
1/4 cup quinoa
500g organic chicken mince
1/2 cup breadcrumbs
1 tsp fresh parsley, finely chopped
1/2 tsp fresh thyme
1/2 cup finely grated cheese
1/2 cup cooked broccoli
3 tbs butter, melted (optional)
Method
1/ Preheat the oven to 200oC and line a tray with baking paper.
2/ In a small saucepan bring water and quinoa to a boil. Reduce to a simmer, cover and cook for 10 minutes. Turn off the heat but leave the saucepan on the hot plate for another 5 – 10 minutes. Remove the lid, fluff with a fork, and set aside to cool.
3/ In a medium bowl, combine the minced chicken, quinoa, and broccoli. Mix to combine. In a separate bowl combine the breadcrumbs, cheese and herbs.
4/ Using your hands, create tablespoon-sized balls (1 cm thick) and dip in the breadcrumbs. Place the balls on the baking tray and gently squash to flatten into a nugget shape. Brush with butter (if using).
5/ Bake for 10 – 15 minutes, then turn each nugget and bake for a further 10 minutes, or until chicken is cooked through and nuggets are brown.
Note: If your packet of quinoa has different cooking directions it would be better to cook according to those, as there are many variations.