Boredom Buster Craft Activity for Tweens – My Kmart Hack Fail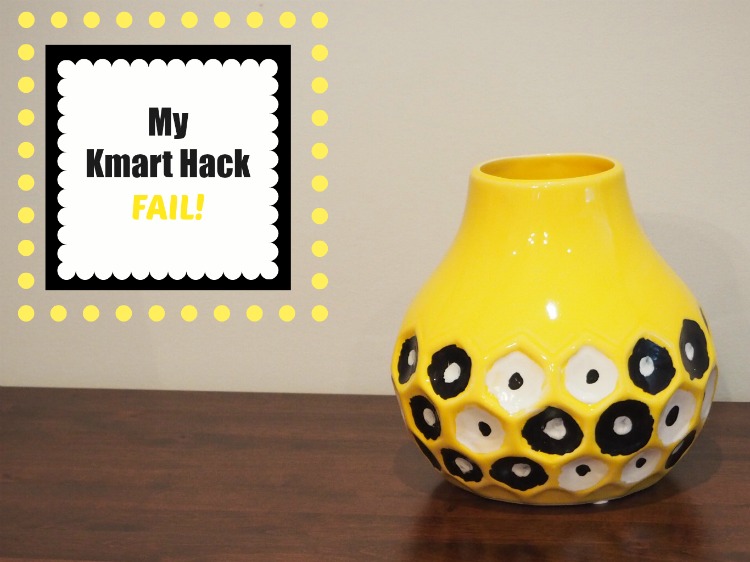 Have you ever had a great idea, given it a go and realized the idea wasn't so great after all? Well that happened with my latest project using a yellow vase from Kmart. I call it my Kmart Hack Fail, but my fail could be your success because despite the vase not looking the way I thought it would, I still had fun creating it. That's the main thing right?
This Kmart Hack Fail could give your tween something to do these school holidays… and they most likely will do a much better job that I did.
What you will need
1 Kmart Yellow Geometric Vase
1 Bottle of Black Nail Polish
1 Bottle of White Nail Polish
1 Thin long paint brush
When I envisioned this project, I wanted the vase to look a bit different with a simple paint design that would make it look unusual. It definitely looks unusual!
Before you start, I suggest you work out a pattern you want to follow when colouring the hexagons. I decided to wing it and hoped for the best. Clearly this may have been my undoing. I also realized I'm terrible at painting in between the lines.
I used the nail polish brush at first to paint each indent but I found using a longer paint brush much easier.
Once I painted in each hexagon indent, I waited for the nail polish to dry. A hot tip – make sure you don't add too much nail polish as it will run down the vase into the other painted indents. I used a baby wipe nearby to clean the overruns.
Once the indents were dry, I added dots in the opposite colour for extra detail. In this case, I think I went a bit too far but once I started, I couldn't stop.
Once the vase was dry I put it on display. I then noticed the terrible paint job and while it's still on display, I have a few books sitting next to it draw attention from the flaws.
Have you attempted a Kmart Hack and failed like me?