Creating a Workspace That Actually Works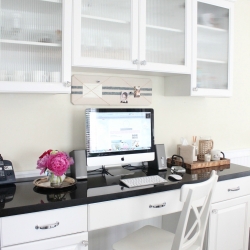 The home workspace has become the hub of the modern home, & with houses getting smaller this space often has to integrate into the everyday living areas. The trick is to make the workspace actually work, meaning it has to hold all the stuff (computer, papers, printers etc, etc), keep the potential mess at bay & still look attractive. Difficult task, but not entirely impossible.
This workspace, built into the kitchen is ideal, you can keep tabs on dinner & pay bills & update your status at the same time, definitely something to think about if you are re-doing your kitchen.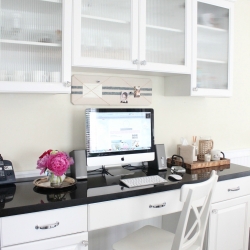 If you decide to incorporate your workspace into a bedroom converting a built-in robe is a great option because you can just shut the door on work at the end of the day.
I love the stunning horizontal striped wall, it would definitely keep you alert & adds a great pop of colour.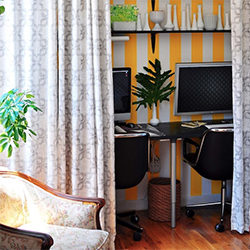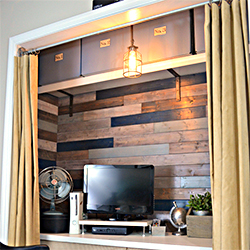 If you must have your workspace in the everyday living area it is important to keep it well organised, tidy & attractive. Consider using a vintage dressing table, they can be picked up at estate auctions for under $50, also try Gumtree. A quick repaint & the result can be dazzling. The best thing about a dressing table like this one is the amount of storage.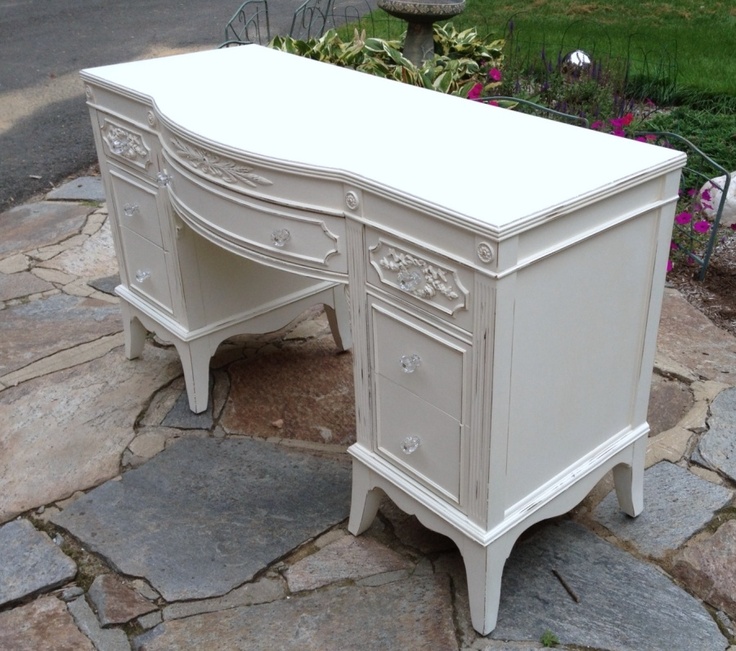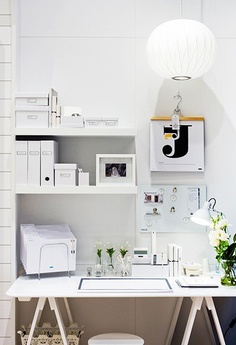 This space being entirely white does disappear into the wall a bit, places like Kikki K & Officeworks are great for buying co-ordinate file boxes. Having a fair bit of shelving above clears up desk-space. This is a great method for those with good organisational skills.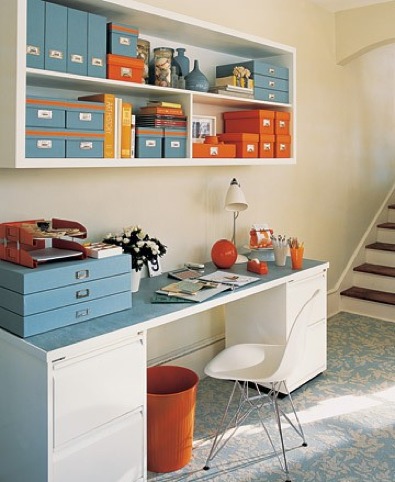 I love this example, using file boxes in complimentary shades of blue & orange makes an attractive workspace area.
I like need to have everything right in front of me, usually splayed all over the place. There are simple ways to make this look better & be much more organised.
This is a cute & quirky idea, attaching clipboards to the wall. I love it, cheap & cheerful, you could just use paint or coloured contact, red for bills, blue for schoolnotes, whatever takes your fancy.
Having everything a eye line, file holders, calendars, notes, I need this!
But in my ideal dream home my workspace would have its own room, where it would be clean, organised, and quiet, there would be no Angry Birds on my computer, somewhere I could hide, listen to MY music & just read magazines. Blissful, it would look just like this….
Last one
One day…..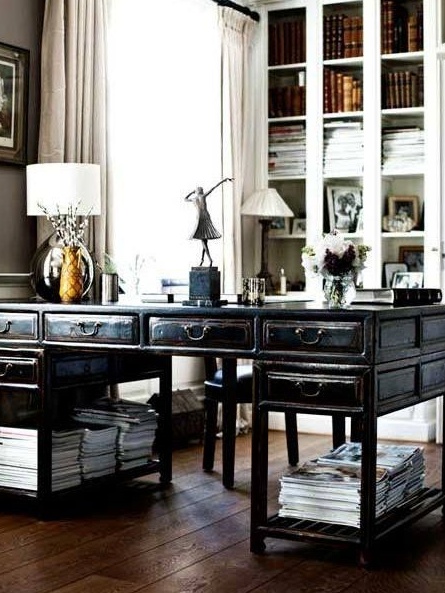 Sources
www.pinterest.com
Jackie Roper is a full time Mum of 4,(5 if I count my husband, aka: the finance minister), part time colour & decor consultant, blogger & utterly addicted to all things homey. I believe that creating a beautiful home does not come from a catalogue but from the heart, I challenge my readers to step outside the showroom & explore & develop their own style with tips on how to & plenty of inspiration. Because we all need inspiration, everyday!