10 Easy DIY Easter Centerpieces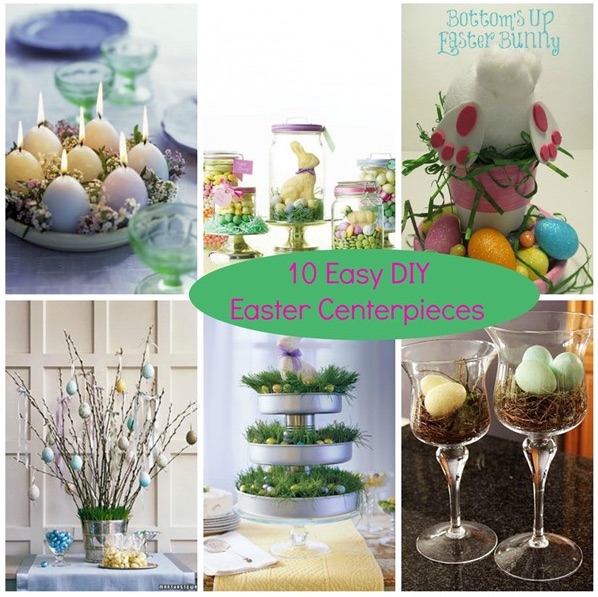 10 Easy DIY Easter Centerpieces
Easter is a little over 6 weeks away which means it's a good time to think about how to decorate your home to celebrate the occasion. We've found 10 easy DIY Easter Centerpieces that will give your home a cheerful touch.
Coming into Autumn, find flowers that are in season and place them in a vase with chocolate eggs or jelly beans featured at the bottom of the glass vase to create a layered effect. Marshmallow bunnies can be placed as an additional layer around the vase.
If you don't have a glass vase, why not try a glass jug. It's still effective and will be able to hold bigger eggs.
Keeping with the flower theme, why not use egg shells to plant flowers or succulents in them? Keep the eggs sitting in the carton for a rustic look.
Egg shells can be a great mould for candles. If you don't want to make candles, just place tea light candles into the open egg shells.
To create a modern elegant centerpiece, use wine glasses upside down and display mini Easter eggs under the cup part of the glass. Place a candle on top for a sophisticated look.
Still using wine glasses, create nests and place some eggs on top. So simple, yet so effective.
Create an Easter scene in a jar using mini Easter eggs, Smarties and bunnies or chickens. Paint the jar lids in a colour that matches or contrasts with the wrapping colour of your eggs.
If you have some different sized baking tins lying in the cupboard, create a tier and place fake grass clippings, chocolate eggs and bunny figurines into the trays. This centerpiece is easy to assemble. Use tin cans to hold each tray to create a tier using the largest at the bottom. Your local craft store will have the grass and plastic eggs for the display. The bunny could be a chocolate one or fake purchased from homewares stores.
A bottoms up bunny is a fun and amusing centerpiece. It's easy to create by attaching a cotton wool ball onto a Styrofoam sphere and adding paw print feet under the tail. Use a terracotta pot to hold the sphere in place and decorate with green shredded crepe paper for grass and chocolate eggs or Styrofoam eggs covered in glitter as pictured.
Tree decorating isn't just exclusive for Christmas. Create this Easter tree grouping branches together and hanging Easter Egg ornaments. Ornaments can be purchased from craft and homewares stores, or you could create your own by pinning ribbon into a solid chocolate egg.
Which Easter centerpiece is your favourite? Which one will you make this Easter?