A Birthday Surprise to Remember!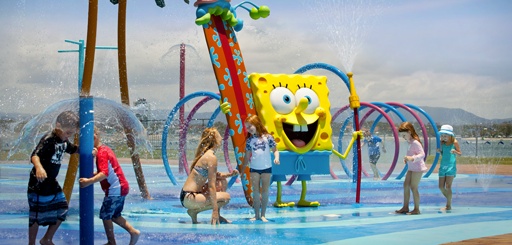 Sponsored post
It's hard to believe that in just 4 sleeps my youngest (and most definitely last) child, Bubble, will be turning four. Four!
It is even harder to believe that Bubble and I will be celebrating her fourth birthday in style this year, thanks to an invitation from Sea World Resort on the Gold Coast to visit them for a two night stay. (She has absolutely no idea, and I am absolutely bursting at the seams to see the look on her face when we arrive there on Sunday.)
If a plane ride with-mummy-and-not-the-boys isn't going to be enough excitement (and that is exactly how she will say it) she is going to go ga-ga when she finds out exactly what activities we have lined up. Let's face it, I'm 34, and I'm going gaga over it!
In fact it's pretty hard to say what she'll love the most!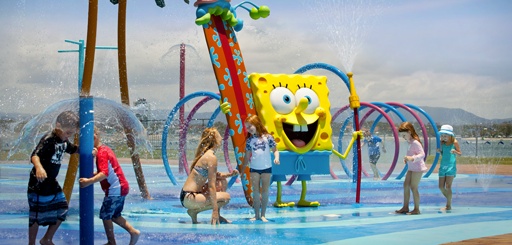 SpongeBob SplashBash
We will be packing our swimming gear, for a few good hours of fun in the Spongebob SplashBash aquatic playground at Sea World Resort. Seriously, how much fun does that look?
Spongebob Light Show
At 8pm nightly, guests at the Sea World Resort can watch the underwater world of bikini bottom come to life at Spongebob's Splash Bash. The theatrical show includes special effects, synchronised musical water fountain and colourful LED lights. Plus there is a different show to enjoy each night!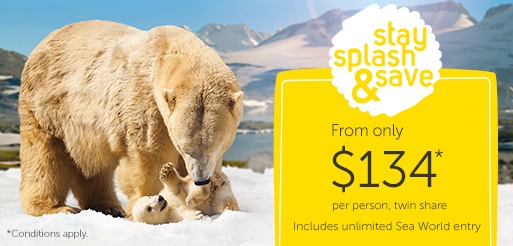 Polar Bear Shores
That's right…we will be enjoying exclusive access to the furry little bundle of white fur that has recently joined the ranks of the Sea World ambassadors – Australia's only baby polar bear, Henry. I can-not-wait for this special opportunity to get up close and observe this darling baby as he plays and explores at 'Polar Pre-School.'
Nickleodeon Character Meet and Greet
From 9am, Sea World Resort guests have an exclusive (and free) opportunity to meet and greet some of their favourite characters including, Dora, Deigo, Spongebob and Patrick, amongst others.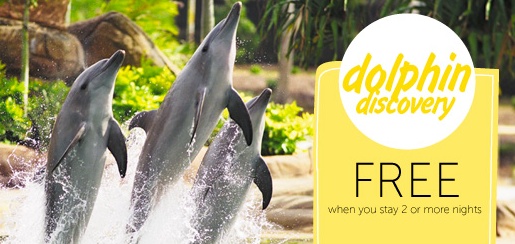 Dolphin Discovery
In an Australian first, Sea World Resort and Water Park have launched the Dolphin Discovery presentation, set in the spectacular Dolphin Cove theatre. Bubble and I will get to enjoy a sneak peek of a dolphin training session, whilst one of the SeaWorld trainers teaches us more about the world of dolphins and answers questions.
Me? I'm looking forward to all of the above mentioned, plus the Shoreline Restaurant!
Shoreline Restaurant
The thought of a two day reprieve from cooking/kitchen/cleaning duties was always going to put me in an instant happy place…but add a buffet breakfast and a nightly themed buffet dinner to the equation and I am in holiday heaven my friend. Jackpot!
Kids Club
And of course, I would be fibbing if I didn't include the option of the Kids club to my list of bonuses.
With it's specially designed activities, face painting, art and crafts, movie theatre and team sports, I have absolutely no doubt that it will be ticking all the right boxes for Bubble too, who is very much a sociable creature. She will be in her element having the opportunity to make new friends.
Just when you thought it couldn't get any better…
Parents can relax and make use of the other great facilities on offer whilst children enjoy some time at the kids club, e.g. 50 metre heated lagoon pool, tennis court, spa, gym, sauna, table tennis, waterspouts and much more!
Room Service
I'm anticipating that after a full day of enjoying the delights at the Sea World Resort and the adjoining Sea World theme park, there is every possibility that Bubble will be needing an early night. So, it is great to know that there is the option of room service if we need it.
Free Wifi
Where would I be without my internet connection, so I can share my adventures with you?
For more information on accommodation and packages available at SeaWorld Resort please visit the Sea World Resort website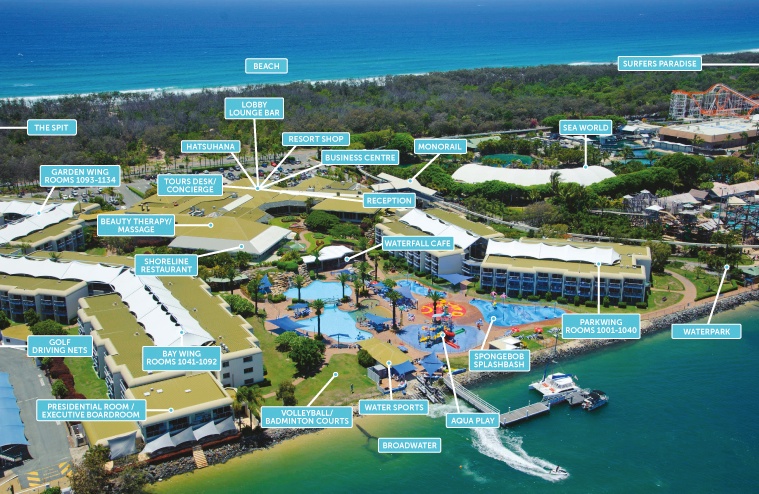 Disclaimer: This is a sponsored post. All thought and opinions expressed here are my own.