Deliciously Decadent Dessert Recipes & Slices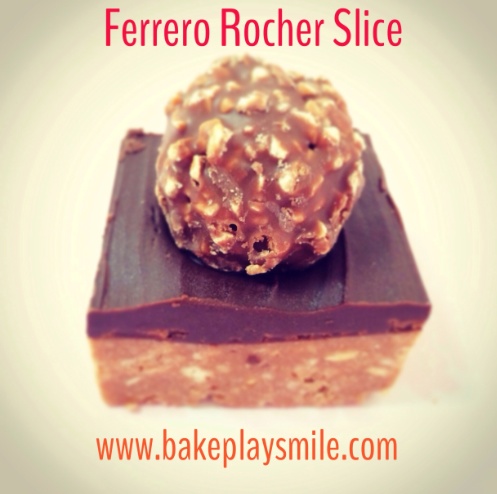 Dessert Recipes and Slice Recipes
Ferrero Rocher Chocolate Hazelnut Slice
Ferrero Rocher's are one of my all time favourites. If I could refrain from eating the entire contents of teh box in a single sitting, I would so make this Fererro Rocher hazelnut slice!
Clinkers Slice Recipe
Thankfully, this is a no-bake slice which means you can make it in the middle of summer and not make your kitchen any hotter than it already is!

Jelly Slice Recipe
Jelly Slice is a favourite with my kids. This tasty slice would go down a treat in my house!
Top Deck Chocolate Slice
Oh my lordy… this is one of those recipes that you gobble down and then think 'oh my god, did I really just eat that?'. Hehe you know the ones I mean. The recipes that taste so amazing but have no nutritional value at all… we all have a place for those recipes in our hearts (and my place is a very large place!).
Berry Sensation Panne Cotta Recipe
Served with Berry Sensation jelly, tea soaked cranberries and pistachio & cranberry biscotti
Drool!
Malteser Slice
It has Maltesers in it!
Enough said!
No-Bake Nutella Cheesecake
This recipe is very simple; it contains no gelatine, and requires no baking. You can have this fabulously rich no-bake Nutella cheesecake in the fridge within about ten minutes.
Nutella Self-Saucing Pudding
This Nutella self-saucing pudding is super-simple to make. It will only take you five to ten minutes to prepare, with half-an-hour cooking time. This recipe is egg-free, not for any particular reason, but I tried it without and it worked fine. If you want to include an egg, by all means, do.
Dilmah Tea Tiramisu
You will need clear the dust from four of your nicest teacups and saucers to serve this dish in. Although there are many steps involved they are all quite simple.
Chocolate and Salted Caramel Brownies
When it comes to naughty desserts, is there any flavour other than chocolate? Yes, caramel and when you combine the two – jackpot! The caramel in this recipe is somewhat fiddly, but oh soooooo worth that little bit of loving effort.
Cookies and Cream Fudge
This cookies and cream fudge recipe is so easy the kids could make it. You can have this in the fridge within ten minutes, and it can set within a few hours.
Carmelita Bars
The thought of combining caramelly goodness with an oaty crumble sounds too good to be true! And with a sprinkling of chocolate chips over the base… how could you possibly go wrong?

Oreo Cheesecake
Yes! It's every bit as delicious as it sounds!

Peanut Butter Cheesecake
Are you a peanut butter nut? I absolutely am. I'm also a cheesecake nut, so this dessert is right up my alley. You cannot go wrong with these peanut butter cheesecakes.Definitely not for the faint-hearted, this is a very rich cheesecake, so you might want to stop at one if you can!