Caramel Slice – Carmelitas Recipe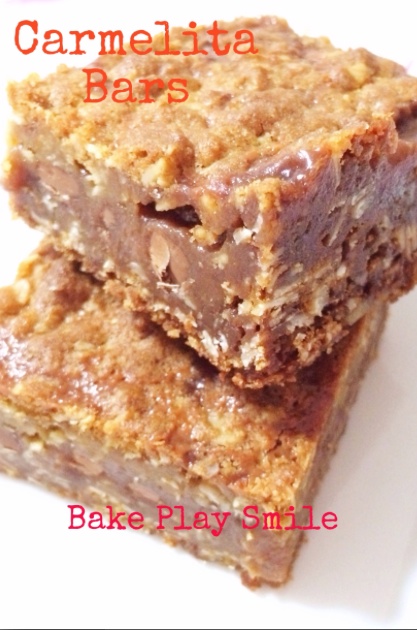 Caramel Slice Recipe – Carmelita Bars
Oooh this is one of those recipes that I had been dying to try out for ages!! I absolutely love caramel (even more so if it's salted caramel!) and I go a bit crazy over oaty crumble toppings (check out my apple crumble muffins and favourite apple crumble dessert if you don't believe me!). So the thought of combining caramelly goodness with an oaty crumble sounded too good to be true! And with a sprinkling of chocolate chips over the base… how could you possibly go wrong?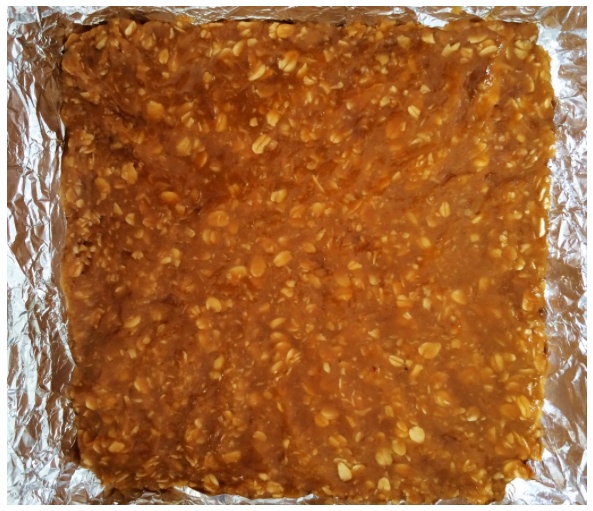 I started off by making the simple oat mixture and then divided it into two and pressed half into a lined slice tin.
After baking the base for 10 minutes, I added chocolate baking chips.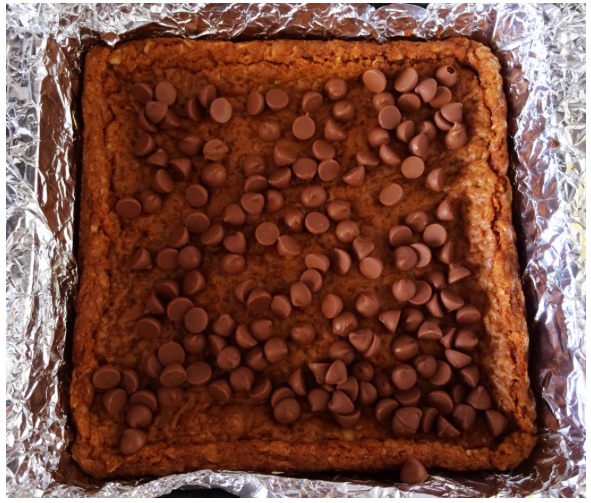 Meanwhile the oozy, gooey, insanely delish caramel sauce was cooking on the stove! Once it was ready and poured over the top of the chocolate chips, I added the extra crumble mixture. I cannot even tell you how much willpower was needed to stop myself from eating the caramel sauce!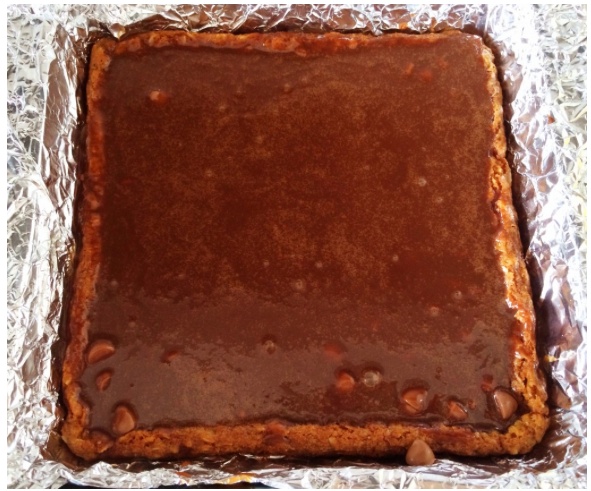 Once I put the slice in the oven I realised I had forgotten to add a pinch of salt to the caramel sauce! Nooooo!!! If it were physically possible, I would have kicked myself! Anyway, the caramel sauce was still soooo good, but I really, REALLY wanted salted caramel sauce!!!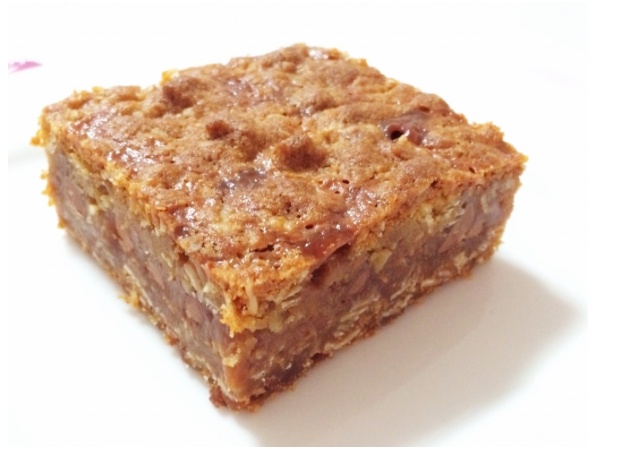 When the slice came out of the oven it was bubbling and oozing with caramelly goodness. I let it cool in the pan before popping into the fridge overnight. You seriously need to make this slice a day ahead. If you tried to cut it on the same day you would end up with a massive mess and caramel going everywhere. Again, you have no idea how much willpower it took to leave this slice in the fridge overnight!
If you love caramel slice but want to try a bit of a different take on traditional versions, then definitely try this one out… it was soooo worth the wait!
Caramel Slice – Carmelitas Recipe
Prep time: 20 mins
Cook time: 25 mins
Total time: 45 mins
Serves: 12
Caramel Slice – Carmelitas Recipe
Ingredients
• 3/4 cup butter, melted
• 3/ 4 cup brown sugar, packed firmly
• 1 tablespoon vanilla essence
• 1 cup plain flour
• 1 cup rolled oats (not the instant or quick cook ones)
• 1 teaspoon bi-carb soda
• pinch salt
• 35 caramel squares (like Werthers Originals)
• 1/2 cup full fat cream
• 1/2 teaspoon salt (this is optional - if you leave it out you will have a caramel sauce rather than a salted caramel
• 1 cup chocolate baking chips
Instructions
Preheat oven to 180 degrees celsius.
Line a slice tin with baking paper or foil, leaving an overhang on two sides.
Melt the butter in the microwave.
Add the brown sugar and vanilla and whisk together until the sugar has dissolved.
Add the flour, oats, bi-carb and salt.
Stir until combined.
Add half of the pat mixture to the pan and spread with a spoon.
Press down hard.
Cook in the oven for 10 minutes.
Meanwhile combine the caramels, cream and salt in a saucepan (or in the microwave) over low heat.
Stir until melted and well combined (about 5 minutes).
Spread the chocolate chips over the cooked oat base.
Pour the salted caramel sauce over the top of the chocolate chips.
Crumble the remaining oat mixture over the top.
Cook for approximately 15 minutes in the oven.
The slice will be ready when the oats have turned golden and the caramel sauce in the middle is bubbling.
Allow the slice to cool in the tin and then place in the fridge overnight.
Take the slice out of the fridge and cut into squares (this will be virtually impossible unless it's been refrigerated overnight!).
https://mumslounge.com.au/lifestyle/food/caramel-slice-carmelitas-recipe/
And there you have it, one delicious caramel slice that has oats, chocolate and caramel all in one!
Hope you find this recipe just as good as we have.  Share it with others if you like it.
 More Dessert and Slice Recipes
For more recipes like this, click here to go to other Dessert Recipes in MumsLounge.com.au.
Author
Hi there! My name is Lucy and I'm a primary school teacher, a wannabe baker, a wife, a blogger, a pilates lover, a chocolate addict, a super-organiser and an over-analyser. When I'm not teaching, you will usually find me whipping up something very naughty in the kitchen…. chocolate and caramel are two of my best friends! Come and join me over on my blog Bake Play Smile or on Facebook for some more sugarific baking adventures! xxx