Easy, Scrumptious, Soft & Chewy Choc-Chip Cookies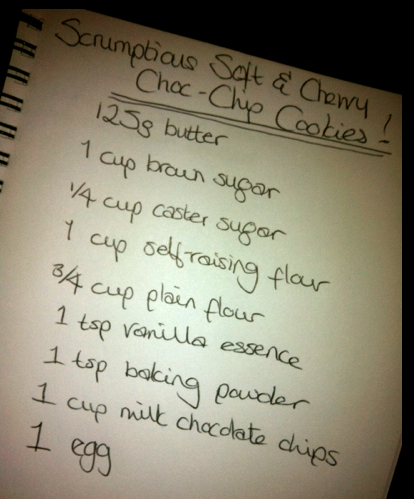 Faced with a cold wet weekend indoors with the kids I decided yesterday that some biscuit baking (followed by some biscuit scoffing) might be a nice way to while away some time with the children.
"But you are not the cakey-bakey-biscuit-makey kind of mum," I hear you cry, and of course, under normal circumstances you would be quite right. But since Anzac day when the children and I managed to whip up our very first batch of Anzac biscuits, I must admit, I have renewed my faith in my biscuit-baking prowess.
So I bailed up one of my cakey-bakey –biscuit-makey mum friends for a easy-peasy recipe that even I would have difficulty stuffing up.
She gave me her 'Scrumptious Soft and Chewy Choc-Chip' recipe, and it was so perfect I just have to share.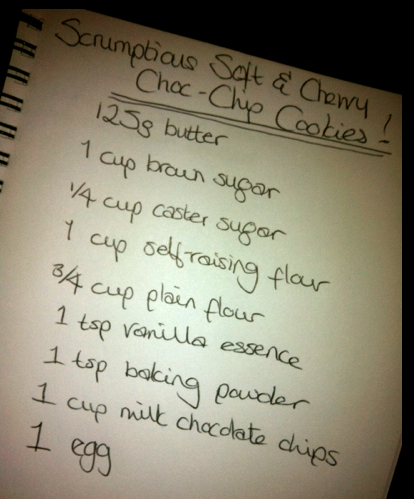 Preheat the oven to 160°C.

Melt butter in a saucepan over medium heat and set aside to cool slightly.

Pour butter into a large bowl and stir in brown sugar & caster sugar until smooth and sugar is mostly dissolved.

Lightly beat the egg with a whisk or fork and stir into the sugar mixture along with the vanilla.

Sift flours and baking powder together into a small bowl and gradually mix into the sugar mixture until combined.

Stir through chocolate chips.

Drop rounded tablespoons of the cookie mixture onto lined baking trays.

Bake for 12 minutes or until golden.

Voila!

Allow to cool, then scoff your face!