Get More Bang for Your Buck this Christmas with Melbourne Warehouse Sales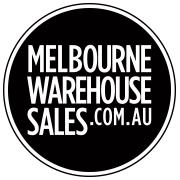 Sponsored post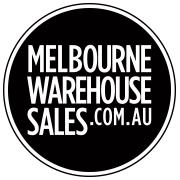 Now, ladies, you know me. There is nothing I love more than shopping…except shopping when there is a sale on. There is just something so thrilling about bagging yourself an awesome bargain, isn't there?
Well, those of you who live in Melbourne will be uber-excited when I share my latest find with you – Melbourne Warehouse Sales. That's right. We might not have the best weather down this way, but when it comes to sniffing out a good bargain, we are kicking goals my friend.
So what are Melbourne Warehouse Sales?
Melbourne Warehouse Sales is owned by a mother and daughter team who have over 35 years experience in the warehouse sales industry hunting down the best bargains. Alice and her mum have used their contacts and experience in the business to negotiate with warehouses across Melbourne to open their doors and sell exclusively to Melbourne Warehouse Sales subscribers for just one day – we are talking wholesale prices or below!
For instance this weekend alone there are seven fabulous sales events, with everything from toys, kitchenware, books, fashion, accesories, cosmetics, wine and more. So, if like me, you are just beginning to think about buying the kids Christmas presents, the toy sale might be just the place to head to this coming Saturday. (Finally I have discovered a perk of being disorganised!)

Or maybe it is time to update your child's wardrobe.


Hubbster, of course is trying to convince me that the children already have more than enough clothes and toys (which is true), and that the sale we should really be heading for is the Wine Liquidation Sale to bag ourselves some boutique wines at 70% off to stock the bar for Christmas! Hmmm? Tough call!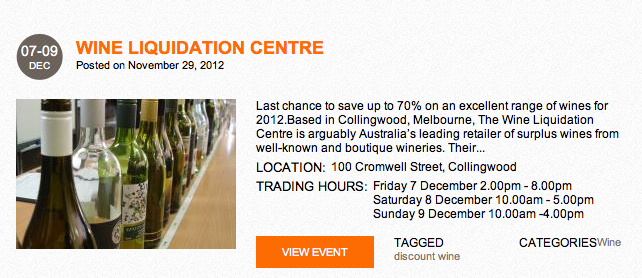 For the full list of upcoming warehouse sales events visit www.melbournewarehousesales.com.au and subscribe to their newsletter to receive alerts and you'll never miss another warehouse sale, clearance sale or big bargain again.

Don't forget to enter for your chance to win a $1500 Westfield voucher just by liking Melbourne Warehouse Sales on Facebook. (Simply click on the image below!)