Hilarious Video: Kids React to Walkmans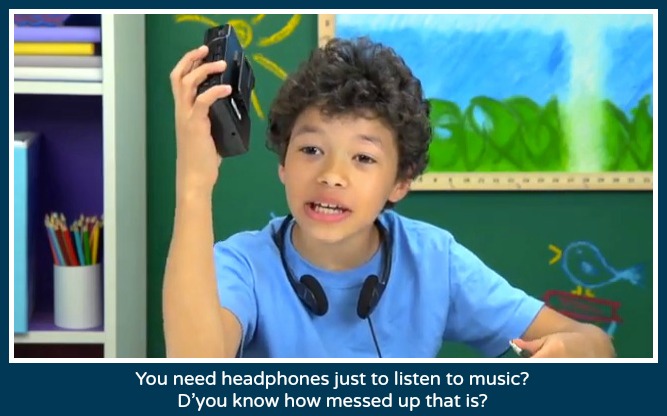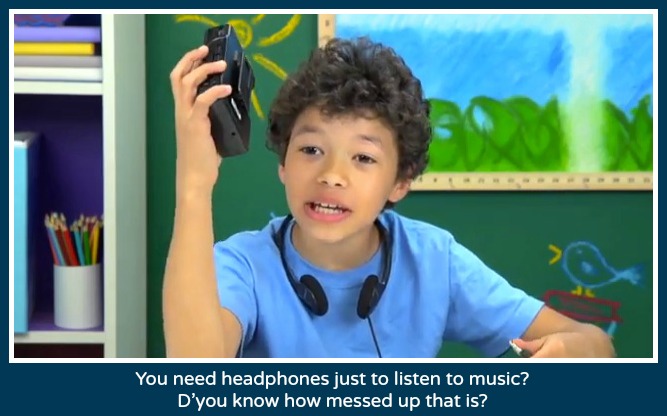 Kids Hilarious Reactions to Walkmans
The chances are that if you grew up in the late 70's or 80's you had a walkman, right?
Anyone who was anyone had one didn't they?
My first 'romantic' memory centres around a walkman in fact.
I was eleven, and on a walking holiday in Derbyshire with my school.  I was sitting on the coach next to my bestie Leanne (on our way from the hostel to an Aquatic centre) when my boyfriend Danny leaned across the aisle to me, and handed me the headphones from his walkman.
I popped the headphones on my head, and he hit the play button.
I can still remember the dimples on his cheeks as he grinned at me while 'Hungry Eyes' from his Dirty Dancing soundtrack played in my ears.
For an eleven year old, you've got to hand it to him, Danny was smooth!
So having said that, I felt particularly prehistoric today when I watched this hilarious video from TheFineBros showing a handful of kids between the ages of 6 and 13 years old reacting to Walkmans.
Of course, used to listening to music on their iPod's or smartphones, the children were baffled over what the piece of outdated technology actually did.
One child's response brought memories flooding back of Sunday night's listening to the Top 40 countdown, recording my favourite songs onto a cassette to play in my walkman later.  (You did that too, am I right?)
'So when you wanted to hear a song," he asks "you had to press the fast forward button and just guess?"
Yes we did!  Do you remember?
Rewind….play….oops too far.  Fast forward.  Stop.  Play.  Rewind. Play.  Close enough that'll do.
Our children will never know the joys and frustrations those cassettes brought us, will they?
Getting them caught in your walkman, and having to wind it back in with a pencil.
Popping a game cassette into the cassette deck of your Commodore computer, and then going outside to play for an hour while the game loaded!
Finding that you accidentally taped over your favourite song.
Going into an actual shop, with your paper round money you've saved to buy the Micheal Jackson BAD cassette.
Those were the days, eh?
Do you remember your first cassette tape? Did you have a walkman?
If you liked this you may also like Kids React to Rotary Phones.