My Impassioned Fashion Plea to Miranda Kerr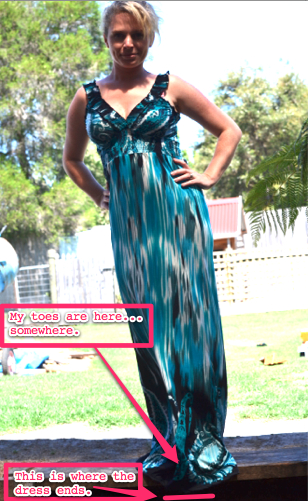 My Impassioned, Fashion Plea to Miranda Kerr
Summer: sand, sea sun and maxi dresses! They are the ultimate in comfort and femininity, with the added bonus of free airflow to all the hot and sweaty body parts most in need of fresh air during the summer heat.
I love them…but there is just one insy-winsy problem. At five foot three (and a half inches) maxi dresses are well…just a little too maxi for me.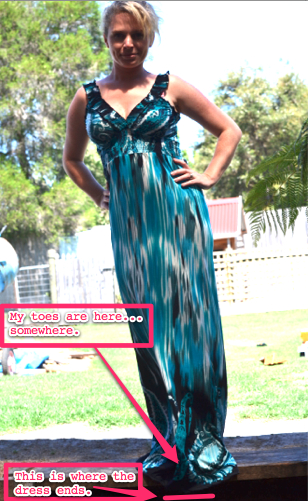 In fact I would go as far as to say that they are hazardous to both my health and my dignity. Many is the time I have stood on the front of the material trailing along the ground and almost gone tits up and eaten dirt. This kind of spectacle is never ideal, but with a toddler perched on your hip and another trailing behind hugging onto your leg…it could well end disastrously.
So…I have adopted the old knicker-tuck tactic when I am at home and wearing my maxi dress. It's ideal. I don't have to wear a big cumbersome, sweaty belt…or (god forbid) try to sew. I just tuck some excess material at the sides of the dress into my knickers…and voila! I have feet again!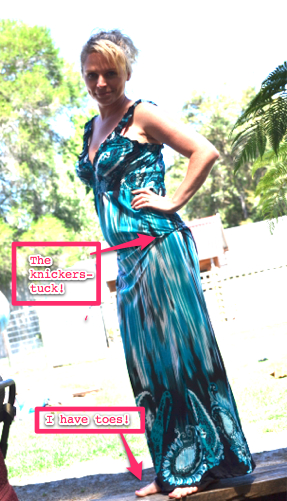 Come on girls? Really? Am I the only knicker-tucker-er?
When I go out though I have to untuck it, and instead opt for the more ladylike gesture of holding up one side (as if I am eating cucumber sandwiches at Buckingham Palace and courtsying to the Queen). Frankly, it gets on my nerves. It gives me one less hand to catch my children with, and increases my chances of ending up on the ground with my maxi dress hoiked up unceremoniously around my waist whilst I flail my legs helplessly in the air in an effort to get horizontal el pronto!
So…and this is my grand plan. I figure that if anyone has the fashionista clout to turn the old knicker-tuck from bogue to vogue, it's our Miranda.
Miranda, (cos I soooo know you are reading this, right?) what do you say you take one for the team? All it would take would be for you to go shopping with Orlando and Flynn in your David Jones maxi dress, wait until the paparazzi appear…and then go the big hoist (make a real point of it, y'know) and bunch it all up into the side of your panties!
The following day everyone from Paris Hilton to Victoria Beckham will be seen sporting the Aussie-Knicker tuck…and I will finally be able to walk down the supermarket aisles without face-planting into the freezer doors and tripping into the trolley.
I will also be able to continue avoiding having to sew.
Please sign my petition below (aka leave me a comment) if you agree with the Aussie woman's NEED for Miranda to turn the knicker tuck from BOGUE to VOGUE.
N.B. Due to the massive support for this…erm…campaign, I'm holding an inpromptu comp on my Facebok page, with a mystery prize (it so mysterious I don't even know what it is yet) for the best photo posted on my page of the knicker tuck. (Open until midnight Australia Day 2012). Oh yeah, and the fabulous Jill from STUNTgirls, never one to miss a good party, joined mine and has also pledged a maxi-dress to the winner! (So make sure you like her page too if you are joining in the fun).