SPACETALK Watch Review: The Perfect Device for Parents That Want Their Child to Be Contactable without the Distractions of a Smart Phone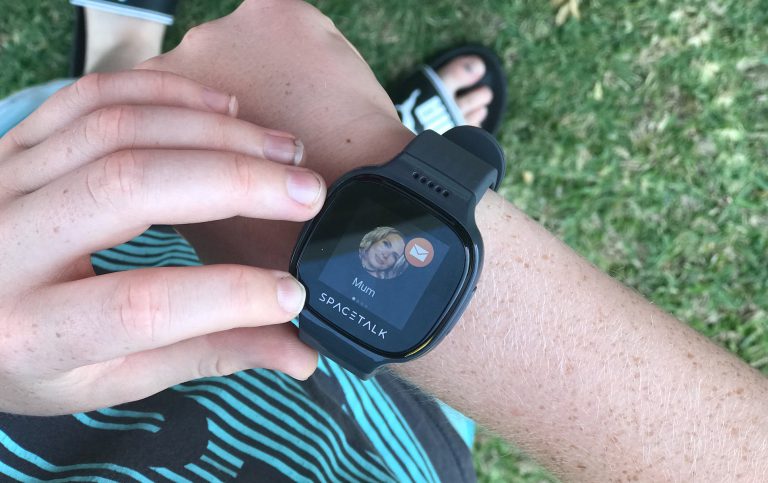 SPACETALK Watch Review: The Perfect Device for Parents That Want Their Child to Be Contactable without the Distractions of a Smart Phone
I can clearly remember, as a 14 year old, going to watch a presentation with the school about 'Communication in the Future.' My friends and I found the speaker's prediction, that within 10 years everyone would be carrying a mobile phone, completely unfathomable. (Yes, I'm that old!) If we wanted to call each other we had to plead with our parents to let us use the landline, or find a phone box. Sure, we'd heard of the internet, (or seen it on American movies) but we didn't know anyone in real life that had actually used it, let alone had it at home!
Of course, we live in a completely different world now.
It's funny to think that the young high school girl at that lecture that envisaged the hyper-connected world of mobile phones and wireless internet access as nothing more than far-fetched, futuristic nonsense, would look back 20-something years later and consider herself barely able to work or function without them both!
As wonderful as it is though, it does present us, as parents, with challenges that didn't even exist for our own parents. These days we have the conundrum of deciding when our child is mature and responsible enough not only to own a mobile phone, but also manage and cope with access to the internet, gaming, social media, the taking and sharing of images (their own and other peoples)…and the list goes on. The problem is that we've all learned to feel safe and secure only if we can be contacted and if others can contact us. In fact, I'll be honest, just the thought of sending my kids out to play (until the lights come on…like we did back in the day) for hours on end, not knowing where they are or how to contact them, makes me feel really anxious.
So how do we deal with and support our children to become more independent when we don't feel they are ready for a mobile phone, but we can't help fretting when they want to go to the park with friends, or walk to the shops etc?
It's a problem I have been facing recently. Almost six months ago, my family and I moved from a small country town in Victoria where we knew almost everyone, to a busier, more populated suburb on the Gold Coast. My children have quickly made new friends, and of course I'm keen for them to assimilate into our new community…but I'm a mum, and its my job to worry!
Whilst my 11-year old son is pretty responsible, I'm still not keen on him having a smartphone just yet, much to his disappointment. So, when I first heard about the SPACETALK Watch, aimed at 5-12 year olds as a stepping stone to a smartphone, you can bet both he and I were very eager to learn more and even put it to the test.
Set Up: We found the set-up instructions really simple to follow and had the watch up and running in no time. It is worth noting straight up, that this watch requires a 3G mobile plan on an 850/2100 MHZ network such a Telstra, Belong or Aldi. So you will need to purchase a nano Sim card separately, with voice calls, SMS and approx. 200MB data per month. I purchased a $10 per month Amaysim Sim card, but have heard about other people purchasing prepaid cards too that last for 12 months, which may work out cheaper, especially if your child only uses it for emergencies.
Once you have your SIM card activated and slotted into your watch, you'll also need to download the AllMyTribe app onto your own smartphone and set up your in-app subscription. The cost of this is $5.99 per month for up to 2 watches, or $8.99 for up to 5 watches.
The Functions
Send and Receive Calls: The SPACETALK Watch allows your child to make and receive calls to contacts that you have approved as safe contacts in the AllMyTribe app, e.g. parents, grandparents and select friends. Calls that are not on the approved list are blocked and text messages from unrecognised numbers are redirected to your smartphone via the app.
School Mode: Ensure your child is distraction free whilst at school with the school mode function which allows you to disable any of the many features during school periods, so as not to disturb the classroom.
Location Device: GPS tracking allows you to see where your child is in real time. Your child can choose to send you their location (say when they arrive at a friend's place, or at school etc), or you can use the 'location on demand' feature yourself, to find out instantly where they are. The SPACETALK Watch also allows you to set up 'safe zones' via the app, so you are sent a notification if they wander further than they should!
Security: Security is of course a paramount concern for parents. You can rest assured that all of the data from SPACETALK and the app is hosted in Australia, in highly secure data centres and protected by Australian privacy and data security legislation.
SOS Feature: For that added peace of mind, the SPACETALK Watch also comes with an SOS button which allows your child to activate this super handy feature. Once pressed, the watch will work its way through calling each of the emergency contacts until one of them answers. It can also be set up to alert authorities if you want to.
Step Counting: With the global wearable tech trend showing no signs of slowing down anytime soon, it's no wonder our kids see us tracking our activity and want in on the action. I'm all for a bit of healthy competition too, if it gets my kids off their ipads and running around outside. A handy side-effect of step counting technology is that now if I ask if someone can go to the shop to pick up a loaf of bread or bottle of milk, instead of being met with complaints and excuses, someone is only too willing for the opportunity to get the edge over their siblings! Winning!
Stop Watch: Because what kid doesn't love a stop watch and lap timer on their watch!
Weather: My son used to ask me every morning without fail what the weather was going to be like – no doubt as a result if growing up with Melbourne's four seasons in one day and knowing that you can't trust the weather just by looking out of the window in the morning! Now he can check the weather for himself!
Alarm: The alarm function is great for teaching kids to be more responsible for getting up and ready for school in the morning, or getting to sports on time. But, it can also be used as a way of reminding them about things such as 'don't forget to hand in the school excursion notice,' etc. Teaching them to take more responsibility, ultimately means lightening our own mental load! Get on it!
Reward Stars: The reward stars are a great way to offer positive reinforcement and let them know they are doing a good job!
Battery Life: The SPACETALK Watch comes with a magnetic charger that connects easily to the back of the watch face. The battery life is approximately 24 hours (although it can be more if you set the GPS updates less frequently), but it's probably best to get into the habit of putting it onto charge each night. You can actually set the app to remind you at a set time each night to put it onto charge, which is handy for busy parents and forgetful children!
The Verdict
It's been a real game changer for us and has ultimately made our relationship even stronger. My son feels like he is being allowed the freedom to do things more independently and grow without me breathing down his neck, and I feel a greater peace of mind letting him have more of the kind of freedom and space we enjoyed as children.
And you know, there's also those heart-melt moments when they message you in their school lunchbreak, or from their bedroom, to say they love you!
SPACETALK watches are available from JB Hifi and sold online RRP $349
Disclosure: I was gifted a Spacetalk Watch for the purpose of providing an honest review. All thoughts and opinions expressed here are my own.