10 of the Very Best Halloween Costumes That Have Gone Viral This Week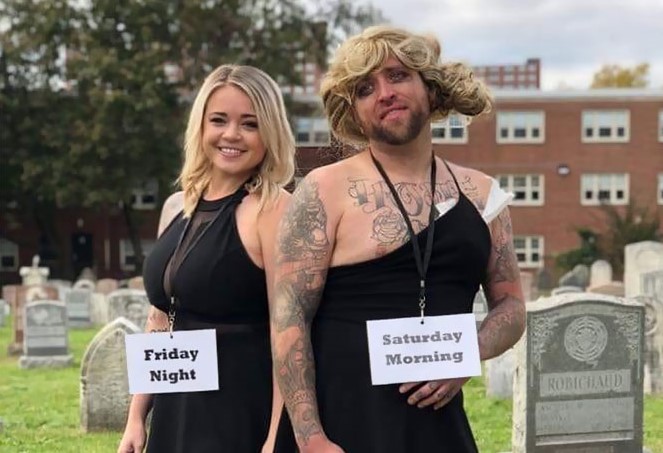 10 of the Very Best Halloween Costumes That Have Gone Viral This Week
It's that time of year again! Halloween is upon us and along with it comes all the amazingly creative Halloween costumes that we wish we had thought of!
There are literally thousands of awesome costumes shared on the internet leading up to the spookiest day of the year, but we've culled them down to just ten of the very best.
Let's dive in!
1. This little girl dressed as Moss from The IT Crowd is sheer perfection!

2. This mum-to-be made herself an awesome avocado costume

3. This man's Bird Box outfit is impressive

4. A lot of artistic effort went into this woman's Picasso tribute

5. t's Freddy Mercury Kruger!

6. "I call this costume 'disappointment'." Everyone's nanna has a sewing kit in their old biscuit tins, right?

7. Lara Kraft, ready for any cheese-related archaeological tomfoolery

8. This group came dressed as dominoes, but we think maybe someone picked up the wrong vibe…

9. So relatable, especially with the nip slip!

10. And finally, Paul Rudd's amazing costume:
Imagine. She's got her Avengers candy bag. She's dressed up as The Wasp for Halloween, escorted by her father, Paul Rudd, who played Ant-Man, in the actual blockbuster film, Ant-Man and the Wasp.

But he's decided to go as Weird Al Yankovic pic.twitter.com/cV08EtIGye

— Garrett Gilchrist (@TygerbugGarrett) October 27, 2019
Which one was your favourite? While it might be a bit late to use any of these ideas for this year, there's always next Halloween!