The Enchanted Book Corner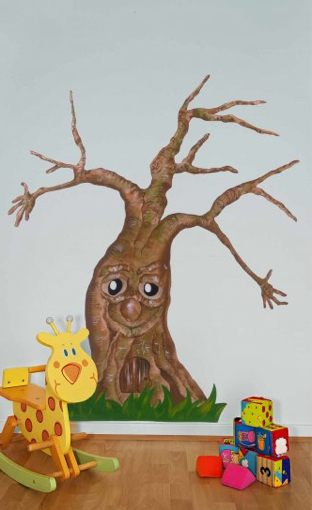 A few months ago, we moved Bubble into her first big girl bed. It was one of those 'Hoorah-no-more-cots' moments. Followed quickly by a very fleeting 'Oh-dear-this-is slightly sad' moment, which gave way almost immediately to the more permanent feeling of 'Hoorah-no-more-cots!'
Confused much?
Well after twisting Hubbster's arm and purchasing the bed that I she wanted, I also set about turning her room from a nursery into a little girl's room and this included making a special space for her to enjoy reading her books. Of course when I say 'reading' I mean looking at the pictures and pretending to read to her dolls.
As I have mentioned before, it is important to me to encourage a love of books in my children.
I thought about where my favourite places to read are;

In bed (Tick. We do this every night before bed)

In the bath (Maybe not such a good idea to turn her bedroom into a swimming pool anytime soon).

Under a tree on a sunny, lazy afternoon…BINGO!
<Cue 2 Bee Creative and their gorgeous range of removeable wall stickers.>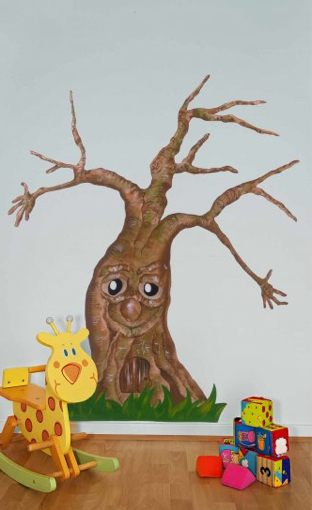 As soon as I saw the enchanted tree on the 2 Bee Creative website I knew that it would be perfect for our reading corner. There were plenty of other gorgeous designs that took my fancy, but none captured my imagination and the 'atmosphere' that I was aiming for like the enchanted tree.
The first thing I noticed about the product when it arrived was the quality. Over the past six years my children's bedroom walls have seen quite a few removable stickers come and go as they have moved through various phases (the Thomas the Tank Engine phase, nursery animals, Nemo, etc) This wall stickers though (unlike ones I have used n the past) is printed on a superior quality woven fabric, with a repositionable pressure sensitive adhesive (which means you can keep moving it and it will keep sticking – which is very important if like me, you like to rearrange furniture periodically and for no other reason than 'cos you felt like it.
I'm not going to lie to you. At one stage I did manage to get my branches all tangled together, and I may or may not have uttered what the Woo would consider a 'square word.' Thankfully the children were outside pestering helping HUbbster with something, and were out of earshot! However, the material was such that I was able to unstick it without fear of it tearing or stretching. Phew!
With the aid of the sponge applicator that came with, and some time and patience, I was able to apply the sticker to the wall surprisingly easily!
I need to get some more cushions, and I'm toying with the idea of suspending a little net canapy from the ceiling above the bookcase so we can turn it into a secret little hideaway corner…but what do you think?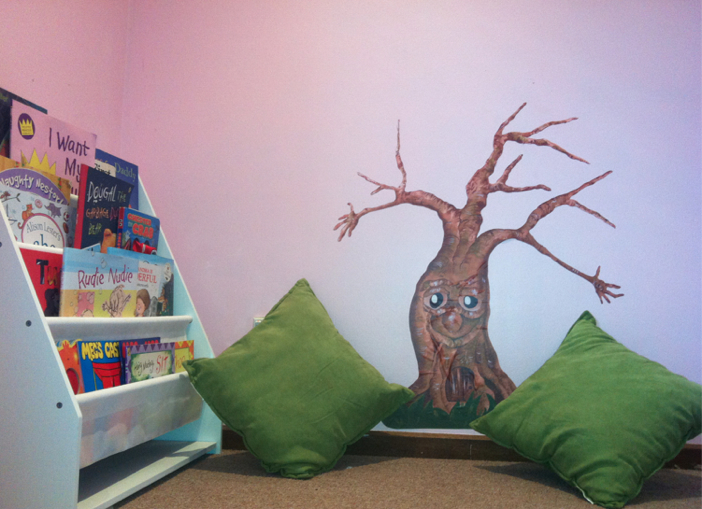 (All I need now is to find a secret little space where I can hideaway occasionally…and the toilet doesn't count!)
Bubble loves it, and on seeing it for the first time Foghorn announced with his hands on his hips and a very put-out expression on his face "Ooooh! I want a tree with eyeballs too Mum!"
Disclosure: I received this product free of charge for the purpose of this review.
However, all opinions expressed with regard to this product are my own.
You can find out more about 2 Bee Creative on thier website / Facebook page.