Walk on the Wild Side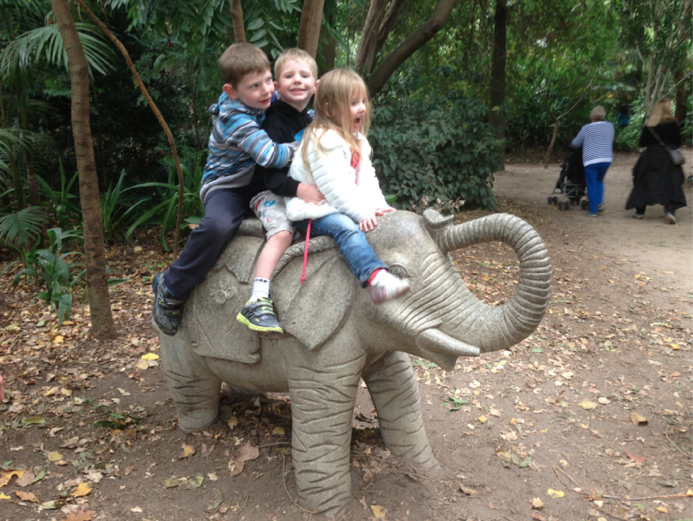 Today Hubbster and I took the kids to Melbourne zoo.
In retrospect, letting them weedle their way to the front of the glass enclosure as the talk on the baboons began may have shown a distinct lack of forethought on my part.  I mean, I'm their mother – I pride myself on knowing what they are thinking even before they think it just by reading a miscievous glint in their eye.  (I have had years of practise with their father!)
The baboons, being a grade 1 animal (very dangerous and those which keepers do not come into contact with) were locked safely in another enclosure whilst the keepers and a few spactators went into their large enclosure to scatter feed. After the vegetables and fruit were thrown around, the keepers and helpers retreated to safety, before the baboon troop was let out.
The Woo, Foghorn and Bubble all sat down, faces pushed against the glass in a state of such anticipation that they were quiet for almost 3 minutes. It may be a new record. I could see them through the legs, and between the arms of other people, as everyone pushed in to try to see.
Hubbster and I hung back, but kept them in our sights, content to give our ears a few minutes rest from the constant assault three curious, and alert little minds can wage when they are excited by their surroundings.
"And here they come," said one of the keepers standing behind us with her microphone.
"Ohhhhh! Look!" I heard Bubble squeal, and the crowd pushed forward a little straining to get a better look.
The gathered zoo visitors let out their collective 'ooohs and 'aahhs' as baboons, large and small, darted here and there, peeling carrots with their teeth and crunching them down, and devouring bananas in seconds.
Over the tittering of the crowd, and the zoo keeper imparting her wisdom and pointing out certain baboon personalities came the unmistakable cackling of my three year old. You know the kind of laughter that comes from the belly and just increases in intensity?
"She snorts like you," Hubbster said.
"I don't snort," I said looking indignant.
He gave me the raised eyebrow don't-make-me-laugh look.
Soon her brothers were joining in, and the three of them were throwing around their best bum jokes. Big, swollen red arses are hilarious to the under 6's.
What their jokes lacked in maturity, they made up for in enthusiasm and volume.
I didn't know whether to wish I was closer to ssshhh them subtly or thank my lucky stars that the metre distance we had secured meant that at least nobody knew they were with us.
It was just then that three year old Bubble stood up, looked through the legs of the man behind her and said "MUUUUUUUUM."
I didn't answer, but it didn't matter. We had made eye contact and that was all she needed to ensure she had my attention.
She turned her back to me, wiggled her bottom and in her loudest voice sang "Shake your booty, shake your booty!" Then she dropped to the floor,  and she and brothers rolled around laughing hysterically once more at their own hilarity.
* * * *
Later, as we watched the herd of elephants, and craned our necks to see the baby one, Bubble asked me thoughtfully "When we go home, do they stay here?"
"Yes honey," I replied. "They sleep in there."
"Oh," she replied furrowing her brow. She looked around surveying the area, clearly deep in thought.
"But Mum," she said finally, still looking puzzled.
"How do they put their tent up?"
Kids! I just love the way their little minds work.
So whilst I may suffer public embarrassment at the hands of my three offspring on an above-average basis, I am thankful for the never-ending blog fodder and giggles they provide! Lol!
What did your child/children make you thankful for today?