Adorable 1 Year Old Chef Has Over A Million Followers On Instagram!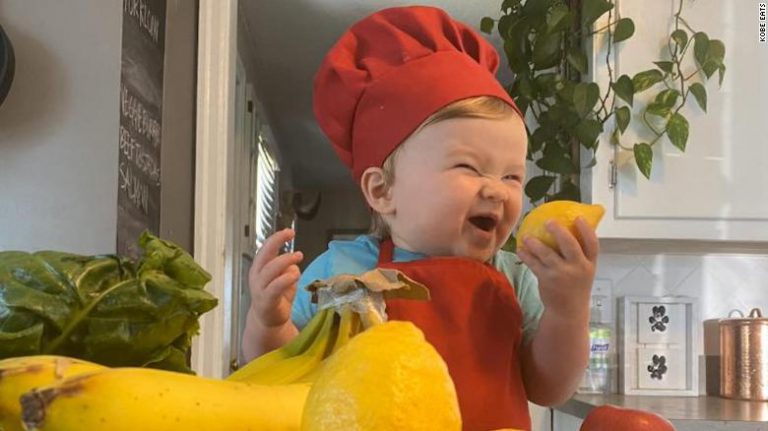 Adorable 1 Year Old Chef Has Over A Million Followers On Instagram!
The latest Instagram sensation is 1 year old Kobe who is cooking up a storm with his adorable babbling and cute step by step video tutorials!
With over 1.3 million followers Chef Kobe presents recipes from around the world all presented while wearing his trademark red apron and hat.
"Chef Kobe" likes "to cook, eat & explore in the kitchen," his bio on Instagram says. His cooking videos show him helping to prepare recipes ranging from
mac and cheese
to
Turkish menemen.
The cutest part has to be when he decides to taste test all the ingredients – especially cheese – Kobe loves cheese!
Kobe's mum Ashley Wian, spoke to CNN saying the videos all began as a bit of fun and a way to document their son growing up. She says he just loves being in the kitchen and helping to prepare meals.
"Cooking is just one of many practical things that Kobe does at home. He has so much fun doing it and such a big, animated personality, I decided to record it to share originally with friends and family," she said.
"We started his Kobe Eats Instagram at the end of February. He had about 200 followers till April 15 then it jumped! 100K, 200K, 500K … we definitely did not anticipate that! "
"It makes us feel like we're doing something right as parents to be raising a child who has the capability to make anyone smile with just a laugh! We always get messages from people saying how infectious his personality is," she said. "We also love that it has encouraged parents to get their kids in the kitchen and sit down and eat as a family, something that is extremely important in our home. "
Ashley says that the family is all about hands on learning and believes the kitchen is the perfect place for kids to learn and grow. "He investigates new ingredients, feels new textures, learns practical skills like pouring, scooping and measuring. That is why this all started, another practical thing that he can learn so much from. He has fine tuned so many motor skills just by helping me. Yes it gets messy but that's it. A mess is just a mess! It can be cleaned! The memories we make will last forever."
As well as recording Kobe's adorable babbling and constant smiles, the videos have managed to capture a few milestones along the way.  On one video, he can be heard saying "Dada" for the first time.
When asked what his favourite thing to make was his mother says, "anything with cheese, mainly because he gets to eat it."
How adorable!! Have you checked out Chef Kobe yet?
Images: Instagram