Brainstorm or Green Needle – You Will Only Hear the Word You Are Reading in This Viral Video and It Is Freaking People Out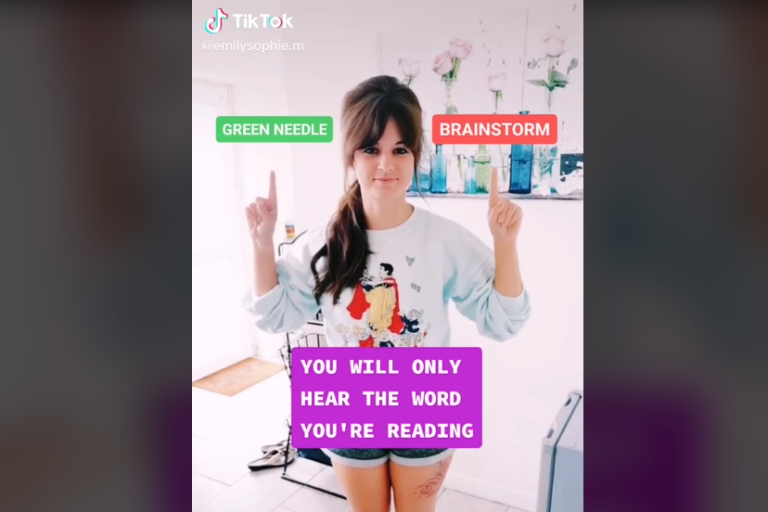 Brainstorm or Green Needle – You Will Only Hear the Word You Are Reading in This Viral Video and It Is Freaking People Out
Remember the Yanny/Laurel clip where different people can hear two entirely different words at the same time? The audio illusion went viral back in 2018 as it blew everyone's minds how we could hear something completely different from our friend standing right next to us. Well, now there is a whole new audio illusion that is blowing minds all over the internet. Depending on which word you are reading at the time, the audio will either say "brainstorm" or "green needle".
Crazy, huh? You couldn't get two words that sound more different but it's true – you can actually hear whichever word you are reading as the video loops.
Watch this clip and see how insane it is:
How utterly mystifying! What is this fuckery??
Once the TikTok clip reached Twitter, people had some things to say about it. As they do.
It also works if you close your eyes and just think of the one you want to hear. https://t.co/qqVSgr6KBd

— Ricky Gervais (@rickygervais) July 28, 2020
It's 2020's version of The Dress and Yanny or Laurel!

— Alex Shaw (@AlexShawESPN) July 27, 2020
I actually convinced myself that somehow,each time I hit watch again it was a different version. One that said green needle & one that said brainstorm!
I can now see I was wrong & the girl is in fact a witch. Get out of my head witch,VAMOOSE 🧠 💨🤯

— Richard Williams (@MrRic_Hard) July 28, 2020
What you hear is an exact in between of sounds of the two words. Like with written words with jumbled spelling, you seen the first syllable and assume what you hear is the rest of what you see.

The Gree and Brai decide what you processed, but they sound identical too.

— Observant Gooner (@obgooner) July 28, 2020
I came here to explain this

It's called the McGurk effecthttps://t.co/Ae3LiKXcwx

This is an advanced variation

— Bullet Ma9net (@bulletma9net) July 28, 2020
And here is what the McGurk effect entails:
'The McGurk effect is a perceptual phenomenon that demonstrates an interaction between hearing and vision in speech perception. The illusion occurs when the auditory component of one sound is paired with the visual component of another sound, leading to the perception of a third sound. The visual information a person gets from seeing a person speak changes the way they hear the sound.'
So there you go! Illusions are fun!
Source: TikTok/Emily Sophie