This Bride Helped Her Best Friend Get Engaged at Her Own Wedding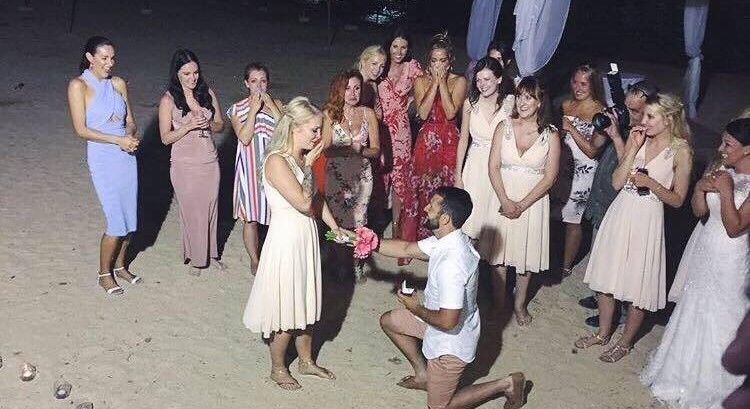 This Bride Helped Her Best Friend Get Engaged at Her Own Wedding
There are certain rules that must be followed when it comes to other people's weddings. Don't wear white. Don't wear red. Don't wear jeans. Don't get drunk and loud and dance on tables. And don't propose to your girlfriend.
That last one is a biggie. For some reason, people love to hijack their friend's or family's big day and decide it is the perfect moment to pop a question of their own. Maybe they are overcome by the romance and emotion of the day. Maybe they are tight arses and don't want to spring for an engagement party?
This story is different though. This one was planned by both the bride and the groom, as well as his best mate who happened to be the bride's brother.
Charley and Andy Lunn got married earlier this month at a destination wedding in Malta. While still in the planning stage, Charley's brother George Attard asked if it might be okay if he were to propose to his girlfriend of two years, bridesmaid Kristina Cooper, at some point during the event.
Charley says that the idea was formed over a game of golf between the two men back in March.
"Andy came home and asked me what I thought," she told 9Honey. "I screamed and messaged my brother straight away saying 10,000 times 'yes!' I did not hesitate as I am so happy to finally see my brother happy…Kristina brings out the best in him."
The siblings plotted their surprise over the following months, and it was decided that the proposal would happen as after the ceremony and nearing the end of the reception.
Charley pretended to throw the bouquet with a couple of some fake swings before carrying the bouquet right over to her friend.
Newly engaged Kristina shared a video of her beautiful proposal on Facebook.
Bridesmaid Kristina says that it was "the best moment of my life" but "looking back on it all its a massive blur!"
"All I remember is that I was one of the only girls who was desperate to get that bouquet. If you look in the video I'm even holding up my skirt so I can get a better chance of catching it!"
"When Charley started walking towards me, all I could think of was, 'this is strange, what's she doing?' Then I turned around and there was George walking towards me. My immediate reaction was to run away!" she revealed.
Overwhelmed by the attention, the bride-to-be said that her emotions were heightened by the "gushing and crying" of onlooking guests.
"I can't actually remember what George said to me, or even looking at the ring, I just knew he was the person I wanted to spend the rest of my life with so I was always going to say YES, regardless what the ring looked like," she recalled.
What a beautiful story! Congratulations on your engagement Kristina and George! And best wishes on your marriage, too, Charley and Andy!
Source: Facebook/Kristina Cooper