Bride Surprises Her Grandmother by Wearing Her Wedding Gown 55 Years Later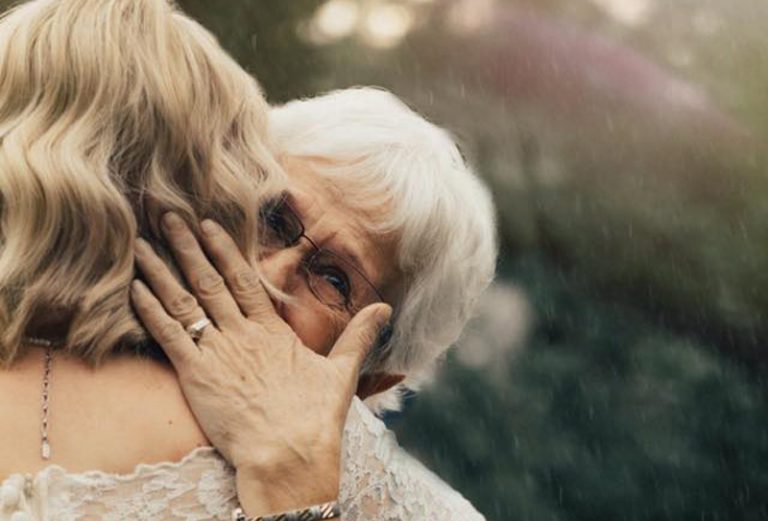 Bride Surprises Her Grandmother by Wearing Her Wedding Gown 55 Years Later
Sometimes when we lay eyes on our perfect wedding gown it can be love at first sight. We just know — kind of like that moment when we realised that our special person was "the one". A switch is flicked somewhere deep inside and from that moment the decision is made.
The story behind this bride's wedding gown might bring a tear to your eye.
Jordyn Cleverly from Idaho in the US decided to wear her grandmother's wedding dress when she couldn't find anything she particularly liked after dress shopping.
"After our engagement, I tried on a couple of dresses at like a local wedding dress shop and I just couldn't find anything that had the style, that antique vintage style that I was looking for," Jordyn said.
The 23-year-old then found out that her grandmother, Penny Jensen, 74, was planning on donating her wedding dress, and that's when she got the idea to try it on herself.
"I went and tried it on and it was actually maybe a size or two too big and so I contacted a local seamstress to see if there was anything we could do with it and she said, 'Absolutely, it's in fantastic shape,'" she explained.
The bride said the moment she revealed the dress to her grandmother, she was completely taken aback.
Jordyn revealed that her grandmother had no idea about the surprise until the rehearsal dinner when she put on the dress for her grandmother to see.
"I told her it was a small family photo shoot with my parents and grandparents because we probably wouldn't have enough time to do it the day of the wedding," she said. "I didn't want her to see it for the first time walking down the aisle and just start sobbing and all those memories come back to her."
Jordyn and her now-husband Dakota Cleverly were childhood sweethearts — just like her grandmother and grandfather, who sadly passed away before Jordyn was born.
The emotional moment was caught on camera by photographer Kortney J.
We wish Jordyn and Dakota much happiness in their future together.
Source: Facebook/Kortney J Photo