Café Workers Receive a Touching Thank You Note for Random Act of Kindness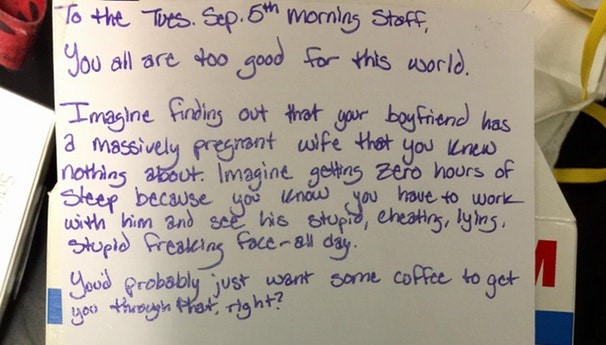 Café Workers Receive a Touching Thank You Note for Random Act of Kindness
When we are at a low point in our lives, we tend to want to hide away, to cry and scream and rant away from the concerned or judgy glances of strangers. But that isn't always possible, especially if you have to continue your life as normal through your grief.
One woman from Oregon in the US not only discovered that her boyfriend was cheating on her, but that she was the other woman — and that his wife was heavily pregnant! If that wasn't bad enough, her former boyfriend is her co-worker, and she has to continue to face him every day.
After breaking down in front of the staff of her local coffee shop, the woman penned a touching thank you note and delivered it to them, thanking them for making her day a little brighter.
To the Tues. Sep. 5th morning staff,
You all are too good for this world.
Imagine finding out that your boyfriend has a massively pregnant wife that you knew nothing about. Imagine getting zero hours of sleep because you know you have to work with him and see his stupid, cheating, lying, stupid, freaking face – all day.
You'd probably just want some coffee to get you through that, right?
Now imagine going to your favorite coffee spot, ordering your favorite drink, having the team listen to your stupid problems, tell you that you're sure as shit too good for fuckboys like that, make sure that your drink is the best damn white coffee kicker you've ever had, then tell you it's free.
I ugly cried the whole way to work. That was literally the most you could have done for me and I am so grateful for your kindness.
I'm sorry I busted out in tears when you were nice to me. Please accept this seed paper as an apology and grow love with it.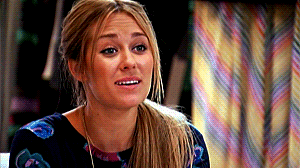 Ohhh that poor lady! I couldn't imagine having to try and get through that day. It wasn't her fault that was 'the other woman', she didn't know. Don't get me wrong, I feel even worse for this peckersnot's heavily pregnant wife, but this woman wasn't to know either.
One of the staff members of the coffee shop shared the card with Reddit sub Made Me Smile, saying that their job isn't just limited to making hot drinks for their customers.
"We are there to be whoever the customer needs us to be. A best friend, a therapist, an ear to talk to, or just a coffee maker. We are here to make the difference in every person's day," Redditor goldenboy2191 wrote.
The thank you card came with a sheet of seed paper that the employees could plant to grow their own flowers.
Sometimes all we need is a little kindness to make our bad days a little brighter. And it's wonderful that the staff of this coffee shop could be there for this woman on her worst day.
Source: Reddit/goldenboy2191