"Clear Knee Mum Jeans" Are An Actual Thing And We're Confused!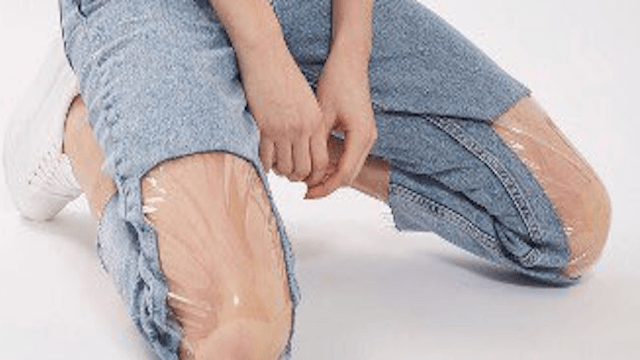 "Clear Knee Mum Jeans" Are An Actual Thing And We're Confused!
Occasionally a product enters the marketplace that leaves us all scratching our heads in confusion. Who on earth thought of such an item and how high were they at the time?
Take the camel toe panties. Underwear designed to actually give you the look of having a camel toe. And here we were all this time trying to disguise ours! Read more about that Einstein moment here.
Now we have the high fashion item known simply as the "Clear Knee Mom Jeans." Sold by Topshop at US department store Nordstrom, they are described as having "Slick plastic panels that bare your knees for a futuristic feel in tappered and cropped high-waist jeans. Clear Knee Mom Jeans™️️ are real pants, for real people, with real knees, and people have real feelings."
What the actual F are they talking about? Since when have plastic panels been a must have item on your clothing? And why the knees? Is it for people who want that ripped look but want to stay warm? Is it taking the piss out of Kanye West's plastic shoes? Who knows?
All I know is that to wear these so called Mom Jeans you have to a) make sure you've shaved under that clear panel and b) be prepared for many strange looks from passer by's. Also shouldn't they come with little windscreen wipers in case you get stuck in the rain?
The twitter-verse naturally went into melt down following the release of these must-have jeans. Users of twitter left a range of comments and responses to the jeans with many believing these clear-knee creations signal the end of the world. And we kind of agree! This is a definite NO from us. What do you think?
These are actual jeans you can buy at @Nordstrom that cost $95.

Called Clear Knee Mom Jeans.

We are truly living in the dark time line. pic.twitter.com/vv9flwQeXx

— ᴊᴇᴅ ᴡʜɪᴛᴀᴋᴇʀ (@Jed05) March 13, 2017
How are these
1) $95?
2) real?https://t.co/uhJXFhisp8
— Dana Loesch (@DLoesch) March 13, 2017
Topshop's Clear Knee Mom Jeans are the surest sign yet of impending Armageddon. https://t.co/XPcfImuGvT pic.twitter.com/KHZKEagFti
— Christopher Sprigman (@CJSprigman) March 13, 2017
Your scientists were so preoccupied with whether or not they could, they didn't stop to think if they should. https://t.co/bbYn1DKaBC

— Michael D L Johnson (@blacksciblog) March 13, 2017
You guys. Wtffffffff is this? Am I hallucinating? https://t.co/jWeBcy8mxr

— Leah, agirlandaboy (@agirlandaboy) March 13, 2017
Next time you think you're failing, remember that someone thought mom jeans w/ clear knee panels was a good idea pic.twitter.com/ERTvqhBJE2

— Anxiety Girl (@AnxiousGrlGuide) March 13, 2017
when youve got fashion at 6 and potential rainfall on only your mid leg at 7https://t.co/CZsj7R9DJT

— abigail (@SATURDAYNlGHT) March 13, 2017
Photos: Twitter