Could Freezing Your Genitals Improve Your Sex Life?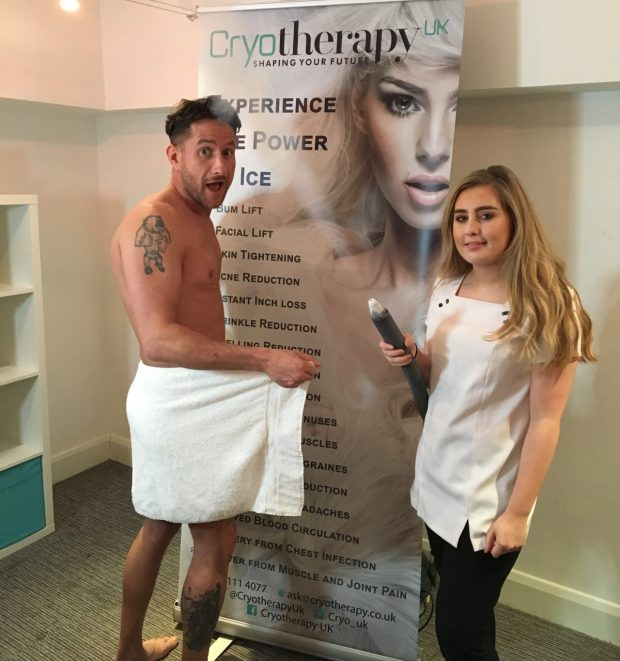 Could Freezing Your Genitals Improve Your Sex Life?
Cryotherapy has been around for a long time – it's the use of liquid nitrogen on parts of the body that in general either need to heal, OR to be removed. Like warts. So why are people lining up at the Ainscow Spa in the UK to have this treatment done on their genitals?
The Spa is offering the 'Love Mist.' A minus 160 degree vapour over the genital area using a liquid nitrogen tank for thirty minutes. My husband has often joked that it's so cold outside that he froze his balls off, well some guys might just have this happen.
The spa is claiming that "when the sub-zero temperatures cover the skin, the sudden drop in heat increases the flow of blood and sends endorphins shooting around the body, generating a natural high. And that what happens is the body sends signals back and forth to the brain.
These messages tell the brain if there is damage to the tissues, to repair them. It's this, that along with the instant endorphin level energy boost and natural high, generates a tighter, youthful, clear, and vibrant genital skin appearance through boosting collagen."
The spa goes on to suggest that the treatment will increase the sex drive and make sex generally brilliant.
Dr Jen Gunter explains in this blog post that as a gynaecologist, she has often used cryotherapy on the genital area but most commonly to remove warts or to treat pre-cancer of the cervix. NOT to increase sexual pleasure.
She says that "when exposed to temperatures of – 20 degrees C or less for a minute or more cells undergo cryonecrosis, i.e. they are killed by the cold, and that cryonecrosis can cause thermal shock, vascular stasis, dehydration, and denuration of proteins.
This does not make me think of rocking good orgasms, it makes me think of sloughing tissue, unnatural redness, a big nasty scab, a horrendous vaginal discharge, and delicate new skin. And frostbite, it makes me think of that as well.
Essentially, freezing your bits will damage tissue and kill off cells, leaving new tissue beneath.
This is probably where the spa is getting the 'rejuvenation' angle from. But freezing the penis or vagina doesn't just magically remove old skin and reveal sparkly new parts underneath.
It's painful. It causes damage. It absolutely does not bring pleasure."
And, as Jen Gunter explains, while the skin underneath may be shiny and new, it will also not be as stretchy. Which is a very, very bad thing when it comes to having enjoyable sex.
"Freezing the genitals for such a long period of time (30 minutes) will reduce blood flow and make the genitals less sensitive, likely reducing sexual pleasure. It's not pretty and no one ever said it improved their sex lives. The idea that exposing genitals to temperatures of –160 C for 30 minutes is absolutely ridiculous.
I've seen the effects of too much liquid nitrogen on normal genitals," says Jen.
So how does this bring pleasure, you ask?
"You've got me beat and I'm an expert. Cryotherapy will simply cause tissue damage and shedding of cells, how wide and how deep depends on where the probe is applied, how long, and how many free-thaw cycles. The spa is advertising 30 minutes with a mist at -160 C. This is a very long time and I'd worry about clitoral necrosis because the clitoris doesn't do well with reduced blood flow. I've heard that's also not so good for the penis. The experience will be painful because it is frostbite.
It is completely unstudied and potentially dangerous and everything the spa is trying to sell as a health benefit is simply a consequence of frostbite worded to sound like it is something positive."
Clitoral necrosis is definitely something to be avoided at all costs. I think I'll stick to the old-fashioned methods; chuck down some raw oysters (or chocolate), and I dunno….. maybe have a bit of foreplay to get things happening?