Designer Platform Crocs Made Their Debut At Paris Fashion Week And We're Horrified!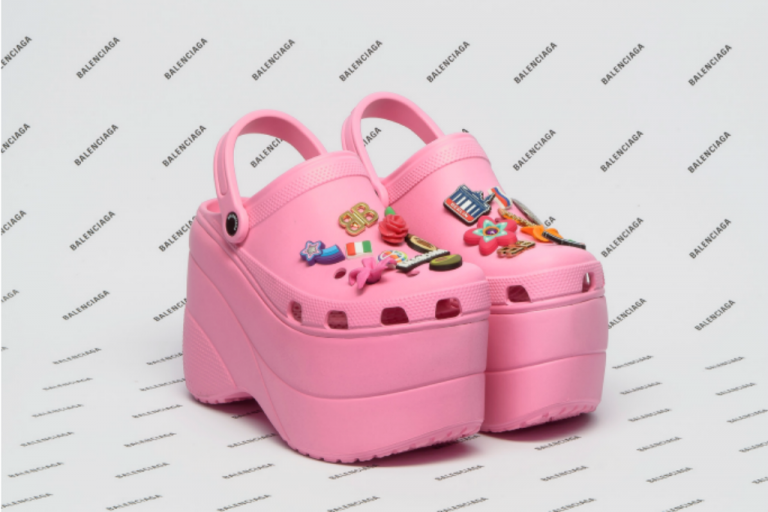 Designer Platform Crocs Made Their Debut At Paris Fashion Week And We're Horrified!
The humble old plastic shoe, otherwise known as the Croc, has been elevated to high fashion status thanks to the team at Balenciaga.
The fashion house is known for introducing many questionable designs to the world recently. Who could forget the Ikea rip off bag that retailed for over $2,000? Or the tote bag that resembled those blankets that grandma had stashed away in the cupboard for  cold winter nights?
This season, Balenciaga debuted the platform Croc for it's spring 2018 show in Paris. The four inch platform shoe comes with patch like charms placed into the shoe's signature pinholes. Look…
With the Women Spring Summer 18 runway show, Balenciaga launches the "Foam" shoes, a 10 cm platform version of the iconic @Crocs clog. pic.twitter.com/TsjgjkllF2

— Balenciaga (@BALENCIAGA) October 1, 2017
As soon as they were sent down the runway people had a lot to say about this shoe transformation.
Ladies and gents, our worst fears have come true: Today, on October 1st, 2017, Balenciaga decided to send PLATEAU CROCS down the runway pic.twitter.com/02wgptaXCr

— Upper East Xanax (@uppereastxanax) October 1, 2017
According to the fashion house, they teamed up with Crocs to create this innovative foam shoe that according to a press release "the Crocs team was very excited about" and that they feel "once once again demonstrates the relevance of our iconic clog in today's fashion and style world."
Iconic clog?? Umm…ok.
balenciaga out here making platform crocs bih im here and alive for this pic.twitter.com/UIlFwJIVOU

— spicy cabrona🔥 (@evvilegg) October 1, 2017
STOP TRYING TO MAKE UGLY SHOES COOL! 👊🏼 CROCS NEED TO DIE @BALENCIAGA 😤😷✋🏼#capslockofanger pic.twitter.com/caJ7n6Ru62

— Victoria Martin (@victoriamstyle) October 1, 2017
Who knows if this crazy fad will take off? I remember someone tried to make platform thongs a thing but that lasted for a hot second before being they were relegated to the bargain bins at most department stores.
What do you think? Is the platform croc something you'd rock?
Images: Twitter