WIN a CoolCabanas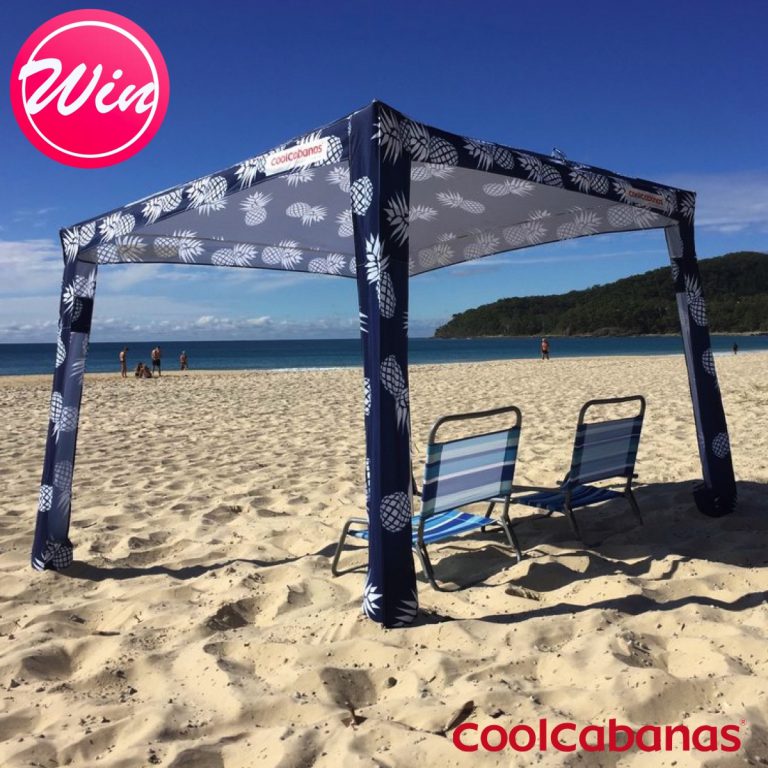 WIN a CoolCabanas
Heading to the beach has always been my sanctuary, as the kids always play happily and I get to kick back relax and enjoy just watching them…it is one of the few places they actually give me some peace! Therefore getting to try out the CoolCabanas beautiful 'Perfect Stripes' was my idea of the perfect day out.
The CoolCabanas Beach Shade is small (39x4x4″), light (only 3.5kg) and was easy to throw over my shoulder leaving my hands free to carry everything else we need or even just to take hold of a tiny hand across the sand. This makes it an easy accessory for a Mum to take to the beach.
I have to admit at being a little anxious at first about whether I would be able to set the CoolCabanas shade up as easily as they do on their video, while keeping a close eye on my little ones at the same time. I was hugely relieved that it literally went up in second, simply a spike in the sand, extended arms and filled pockets with sand and we were done!
We were up and ready to go before my precious little ones had even got their toys out of the bag! Which was just as much a relief when it was time to pack up as it came down just as easily as it went up…….no Rubik puzzle to get this one back in the bag and, if you have ever owned a pop up anything, you will know exactly what I am talking about!
It is really quite impressive how such a small light object can provide such a large area of shade. The CoolCabanas has a massive 2m x 2m area when it's up, which provides ample shade in a nice airy space that both the kids and I can enjoy to play or sit under.
The CoolCabanas Beach Shade holds it's own against the sea breezes and held fast and secure in the kind of wind that has previously seen me chasing an umbrella down the beach in a rather un-glamorous way.  The CoolCabanas beach shade, weighted down with 16kg of sand, was unfaltering. Best of all, with the aid of some grass pegs, the CoolCabana can be used anywhere, so I can now keep little ones sheltered from the sun wherever we are and lazy days in the garden, days at the beach or picnics in the park are a whole lot better and a whole lot sun safer!
CoolCabanas have created some really beautiful designs that lend themselves perfectly to days by the water or, in my case, even just days outside with the kids. It is easy to see how the CoolCabanas Beach Shade can claim to be the "The Worlds Best Beach Shelter", they are beautiful and eye catching designs, small and light enough to take anywhere, quick and simple enough to set up on your own….while having one eye on the kids, provide lots of shaded area to comfortably sit or play under and won't let you down when you need it!
Thanks to Coolcabanas we have a beautiful new for 2017 Navy & White Pineapples Coolcabanas worth $159 to GIVE AWAY to one of our lucky readers.