This Mum Wrote a Hilarious 'Missed Connection' Post After Seeing a Potential Mum BFF in Target
This Mum Wrote a Hilarious 'Missed Connection' Post After Seeing a Potential Mum BFF in Target

Best Mum Friends Forever (aka BMFFs) are vital to the sanity of mums with young children. These amazing women have your back, pick you up when you're feeling down and are always willing to join you for a wine (and a whine) whenever the mood hits.
But what do you do when you haven't found your BMFF yet?
Well, it's kinda like dating to be really honest. Meeting and getting to know new people is never easy, but sometimes the end result is totally worth it! Especially if we're talking about new BMFFs.
Nikki Pennington, a mum blogger from Florida, missed her chance to get to know a fellow like-minded mum at her local Target, so she wrote a hilarious post trying to find her. Her post is going viral because we can all relate so hard to her words:
Missed connections
To The Mom In Target
You were at Target last night about 7pm in the crayon aisle. I was wearing my mom couture complete with dry shampoo hair, no makeup, yesterday's T-shirt and yoga pants.
You were also wearing yoga pants with flip-flops and a messy bun. The venti Starbucks in your hand was a dead giveaway that even though you were wearing yoga pants you had in fact not come from the gym. I know because I was doing the exact same thing. #yogapantsarelife
I tried to glance at your cup to see the name of my future BMFF (best mom friend forever) but let's be honest, at my age I'm on the verge of needing readers to see that far away.
In your cart, you had diapers, soda, wine and chocolate. Again, confirming my suspicions that we, in fact, were meant to be best mom friends.
Our carts hit once as we rounded the corner from aimlessly pretending to be shopping for something in our favourite store when in reality we were both just having a moms night out. I mean we all know that's where all moms go for a night out.
So, to the fellow mom in Target last night at 7pm, if you see this and recognize this story and my Starbucks drink please know I'll be back at Target again next week because let's be honest, I live there.
Maybe I'll see you again, same time, same aisle and this time we can wander around aimlessly in Target together for our moms night out.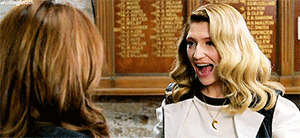 Popular Youtube vloggers Cat and Nat have a similar take on finding your BMFF, reinforcing the fact that the process is very much like dating.
"The courtship that happens between two mums starting a relationship is just like Tinder," the funny mums say.
"You don't want to go for someone who's like a veteran because they're not jiving with what you really care about — you've really got to go for someone's who's ripe!"
Their hilarious video is full of mum dating tips to help you find "your brand" of BMFF.
Have you found your BMFF yet?
Source: Facebook/Nikki Pennington, Youtube/Cat and Nat and Giphy