Embarrassed Mum Fears She 'Can't Go Back' to Personal Trainer After Hilarious Progress Picture Blunder
Embarrassed Mum Fears She 'Can't Go Back' to Personal Trainer After Hilarious Progress Picture Blunder
For some, the thought of showing their face after an embarrassing blunder is far too much to bear. They'd sooner burn all bridges and move to Poland than turn up and realise the true extent of their humiliation firsthand. I should know, I am one of these people!
Another one of my kind is UK mum Gemma Hill, who recently suffered one of the more extreme blunders on the mortification scale. She left people in stitches after sharing a text message exchange with her personal trainer after sending him some progress pictures, joking that she might have to continue her fitness journey elsewhere
Sharing her embarrassing story to TikTok, Gemma revealed more than she expected with everyone concerned:
She explains that her new PT had asked her to take 'before' photos in her underwear, telling her not to breathe in or pose for good angles, but "be honest" so she would have a starting point to compare her progress against.
So Gemma did exactly as instructed, posing for a photo in her underwear and sent them through – but was left mortified by his response.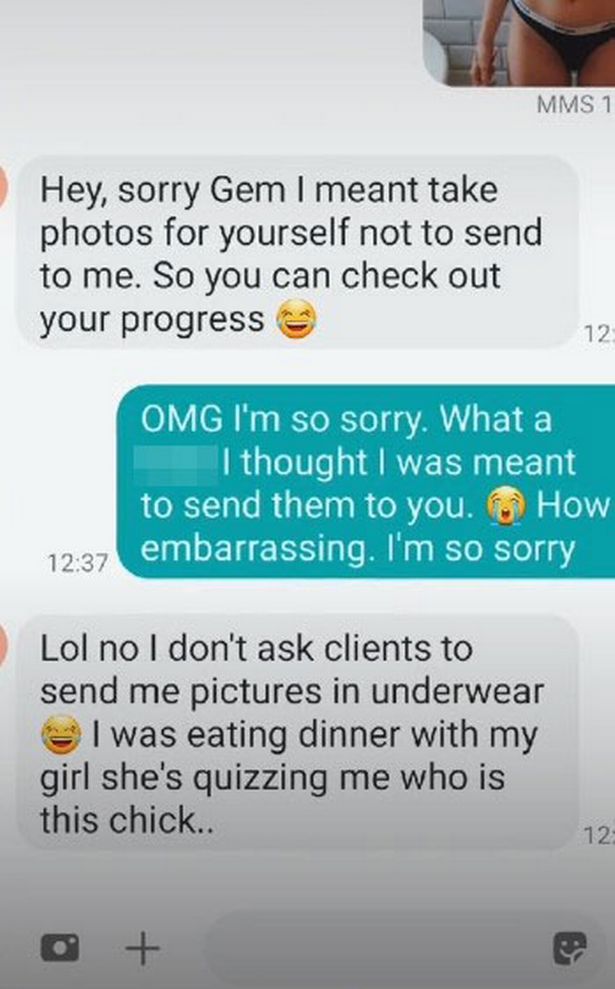 Look, this is something that I would probably do. It's an easy mistake to make, after all! But at the same time, of course, they wouldn't want to see the photos themselves! How inappropriate!
Gemma hilariously captioned the video 'How do I go back' with a face of pure dismay and shame.
Many of the hundreds of comments offered support to poor Gemma, agreeing that they probably would have thought the same, too.
"My PT told me to take pics but said do not send me them so I'm assuming others have before…" reassured one commenter.
Another added: "Don't worry I probably would have thought the same! I would have assumed the PT had a before and after board or website or something!"
And others were simply left in hysterics, as one commented: "Sorry but that's so funny…"
Is this something you would do?
Source: TikTok/Gemma Hill