The Glitter Tongue Is Instagram's Latest Baffling Beauty Trend!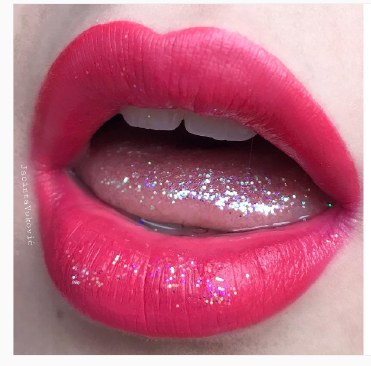 The Glitter Tongue Is Instagram's Latest Baffling Beauty Trend!
As far as beauty trends go there have certainly been some doozies this year. Who can forget the illuminating cream for your vulva? Or the feather brow look which was just recently outdone by the equally ridiculous wavy brow creation! Seriously?! Half time I think beauty bloggers are just taking the piss!
Check out the latest accidental trend which involves putting GLITTER ON YOUR TONGUE!! I'm not even joking. The sparkly fashion mishap happened to Australian makeup artist Jacinta Vukovic when she accidentally got glitter on her tongue while trying out a new makeup look. She loved the look so much that she posted a picture of it to her Instagram.
"I was doing this Lip look and got glitter on my tongue, so I thought I would embrace it and make it the main focus!!" she wrote as the caption.
Since then Instagram has been flooded with women trying out the trend for themselves and sharing the glittery photos to their followers. As far as beauty trends go it certainly looks to be one of the simplest ones- I mean all you need is a tongue and a jar of glitter. Except I'm not sure- do you pour the glitter on or do you dab your tongue into it. Both very important questions!
But here's my most important question. What happens when you want to CLOSE YOUR MOUTH?! Or swallow? Or take a sip of coffee. Or you know, just breathe!
Just the thought of inhaling glitter makes me anxious. Although swallowing a bit of sparkle probably won't kill you it's probably not the best for your digestive system either.
And what about the clean up? Have these women tried getting rid of glitter? Do they not know that it's near impossible to clean up every sparkly speck? I did a glitter craft activity with my kids when they were 4 and I swear I'm still finding sparkles in the carpet. They are now 10! You see my point.
Yeah, I'd be leaving this trend alone…maybe just stick to glittering the shit out of your boobs instead! What do you think?
Photos: Instagram